Most technological innovations begin with a basic quest to make human life better and easier. Many software product updates are done to make the user experience (UX) better.
How many times have we logged onto an application to do something, found the user interface (UI) difficult to use, and spent far too much time figuring out how to use it before completing what we had set out to do?
More times than we can remember.
A good UI can have a powerful impact on the usability and user experience of an application. It makes life easier on users and helps them get their work done more efficiently. IT teams being tasked with managing all the aspects of today's complex environments can gain a competitive advantage when their IT management tools provide a streamlined user experience.
A few of the tenets of modern, user-centered UI design include:
Clarity is the first principle — it should be obvious and intuitive as to what the interface allows the user to do.
Form follows function — the action of a UI element should be predictable, simply by seeing it on the screen.
Build trust — through design consistency and by providing immediate feedback that the action the user has taken has actually occurred. For example, by surfacing pop-ups on the screen.
Keep the user in control — no unexpected steps or outcomes; keep things logical and intelligently organized; reduce cognitive loading on the user.
Minimize the number of steps and clicks needed to perform a task.
VSA's Modern UI
VSA is Kaseya's endpoint and network management (aka RMM) solution for MSPs and internal IT teams in small and midsize companies. VSA is the hub of our Omni IT platform that delivers unified IT management, with seamless workflows across products including BMS / Vorex and IT Glue.
VSA's top menu and side menu have been redesigned to create a more consistent and frictionless experience for the user; this will permeate throughout the rest of the product going forward.
The left side menu is now collapsible and provides the user with extra working space.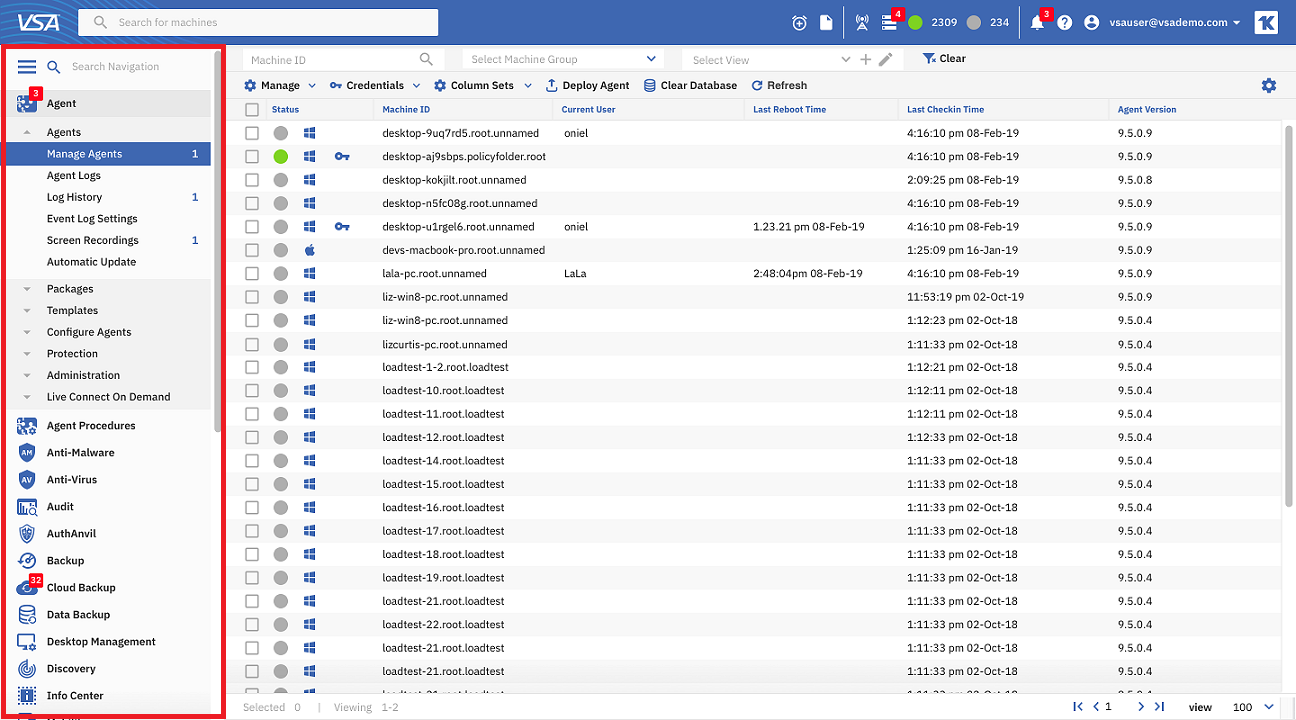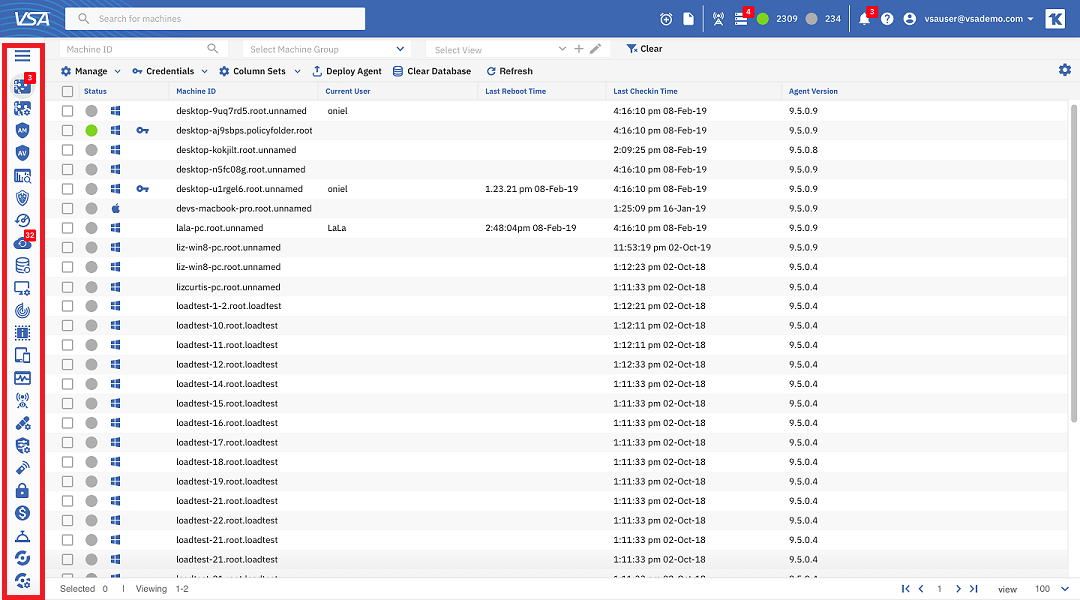 The Top Bar
The top bar is now simplified and key areas have been aggregated such as:
Notification Area – This has both alerts and messages tabs combined which makes it easier for the user to quickly check status updates at a single place.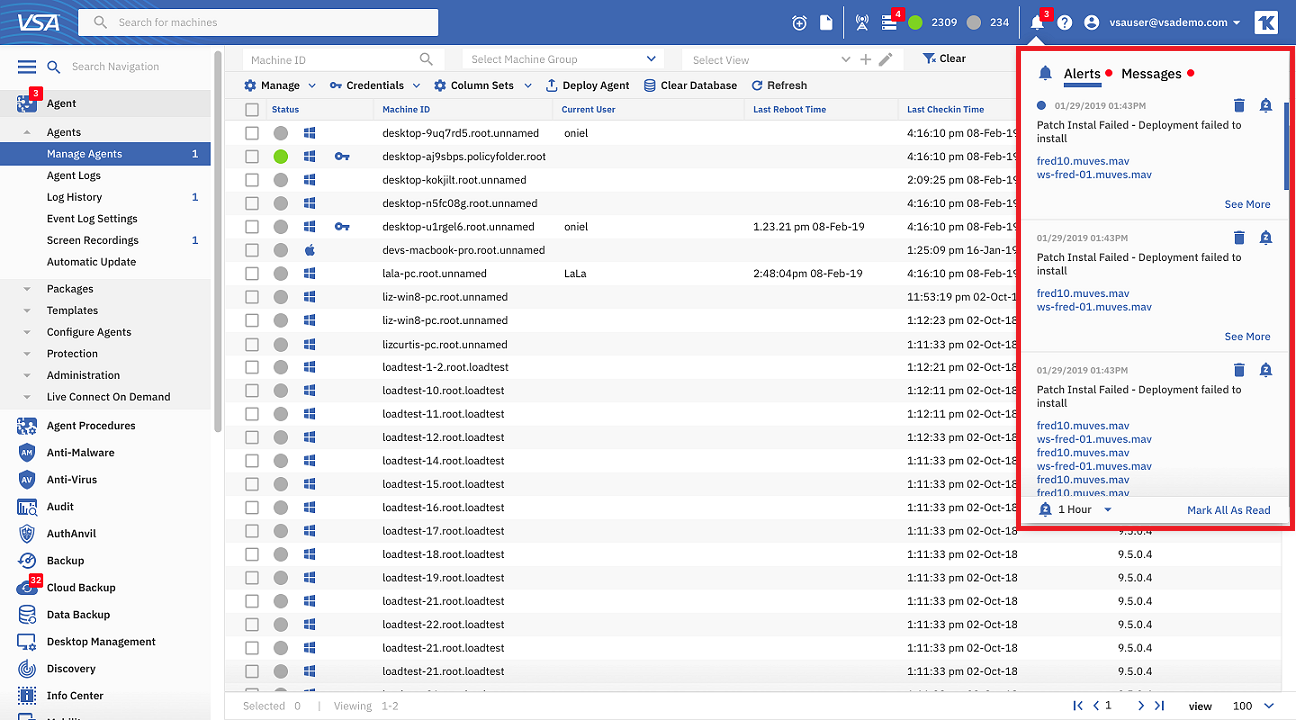 Machine Network Status – This has been redesigned to allow the user to quickly and clearly understand how many machines are associated with a gateway.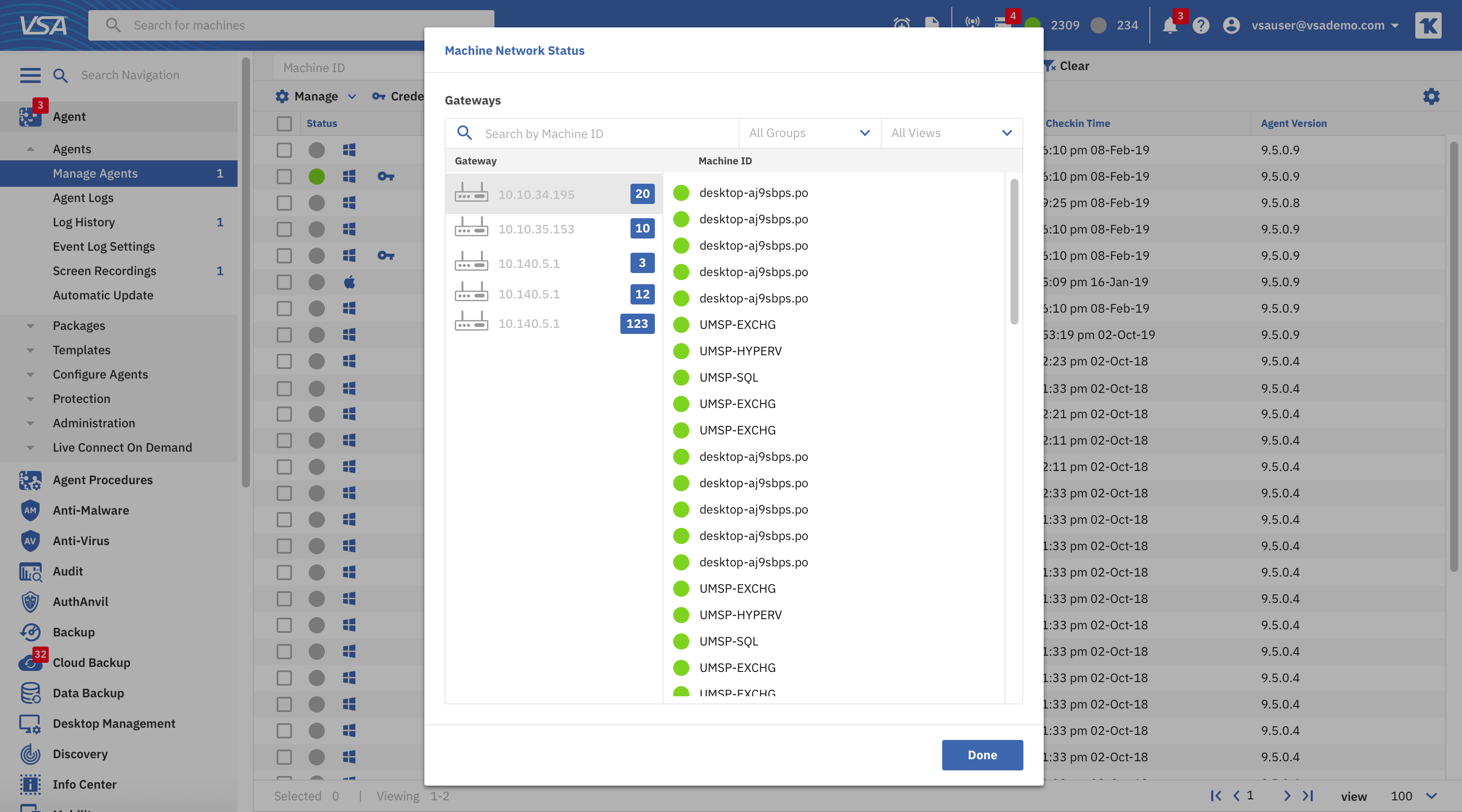 Notes Tool – The Notes tool has been redesigned to help the user quickly add notes to a machine. With an enhanced view, the user can also see which machine is associated with which note. A search function has also been added where users can easily search the notes they've saved.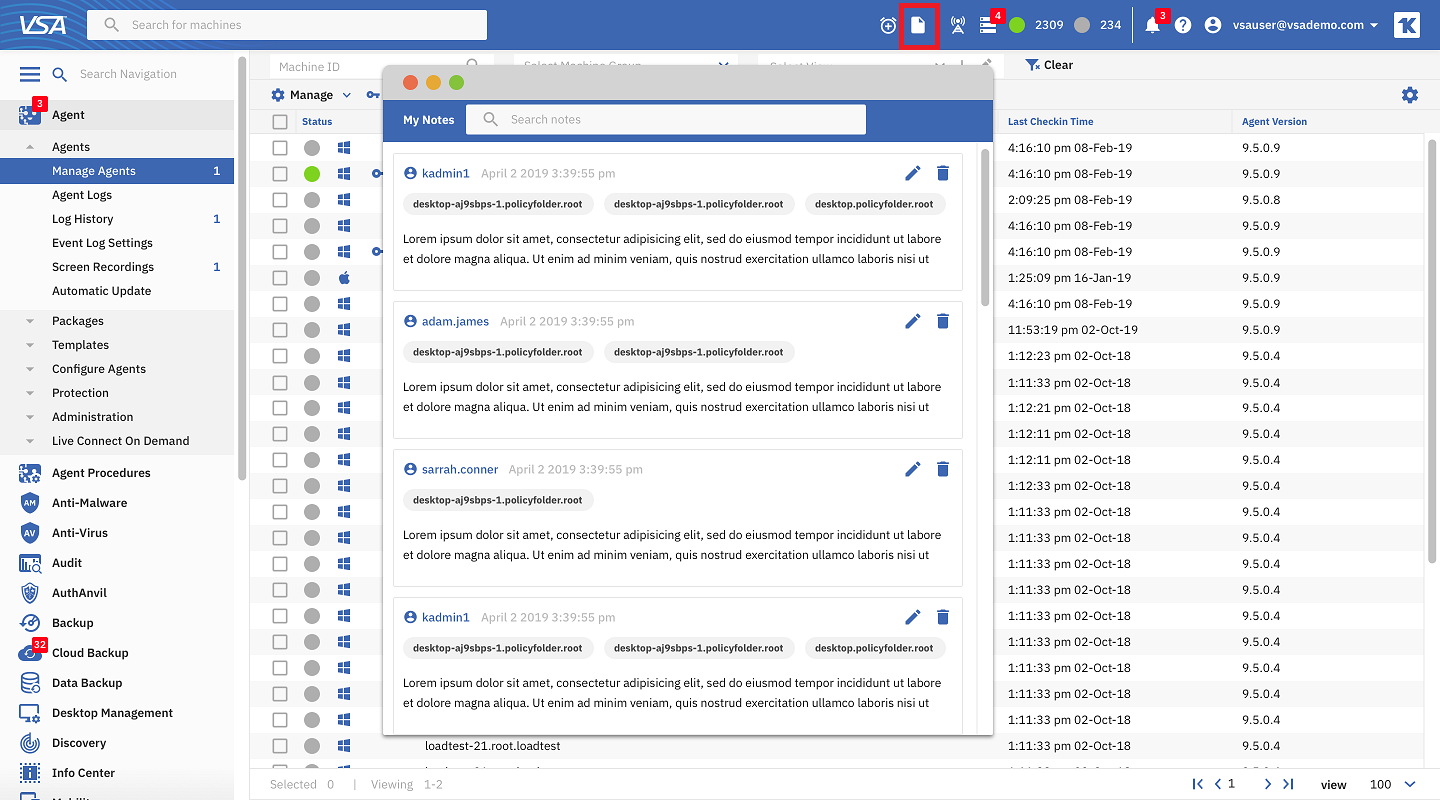 Timer – The Timer has been enhanced to allow for a more clear indication as to when a timer is running. Multiple timers are organized in the running timer widget where the user can pause, cancel, and complete timers. Timers are important for keeping track of the time spent on a particular IT task, such as resolving a service ticket. MSP technicians typically track these times.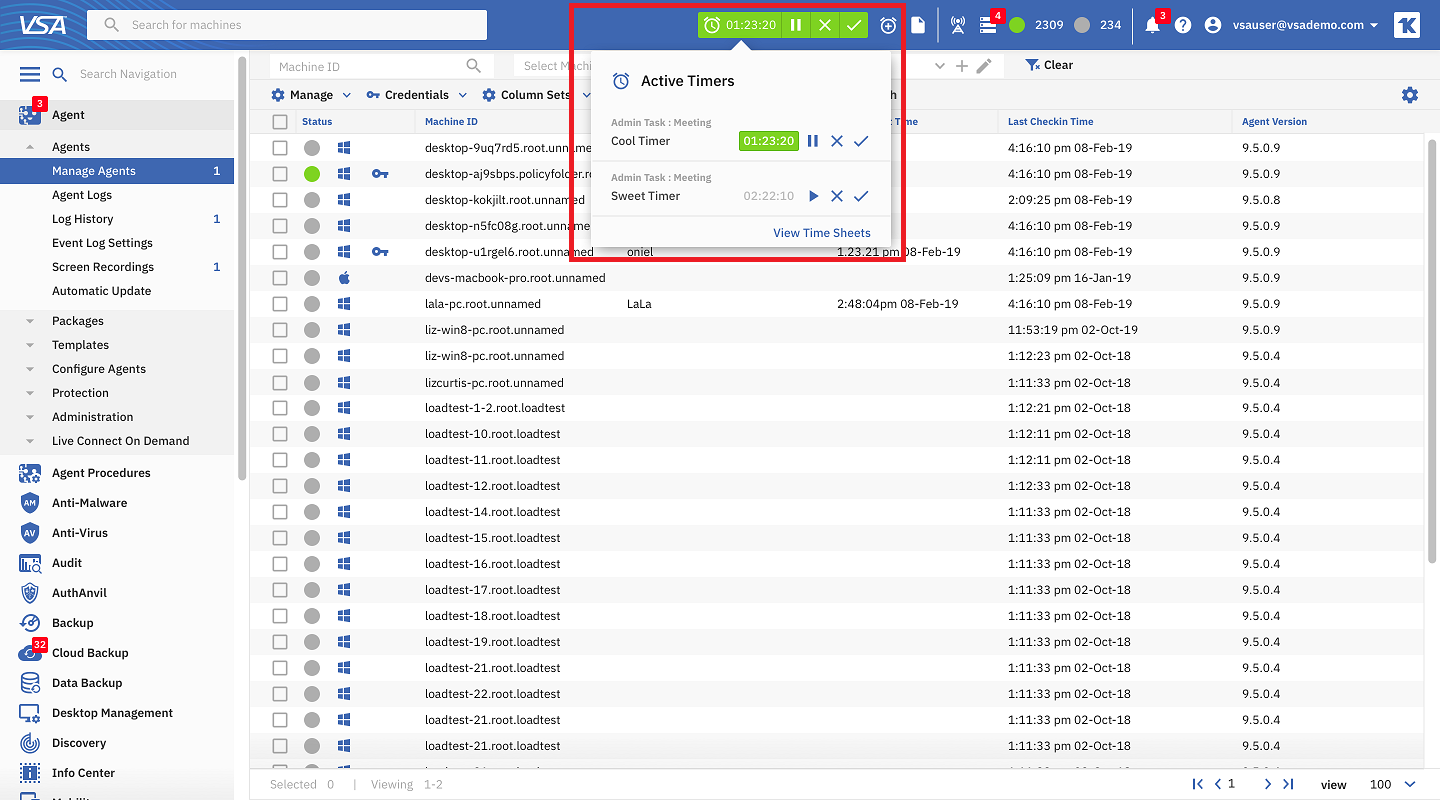 Online and Offline Assets – Offline and Online Asset popups have a refresh as well where information is more clearly presented in its categories.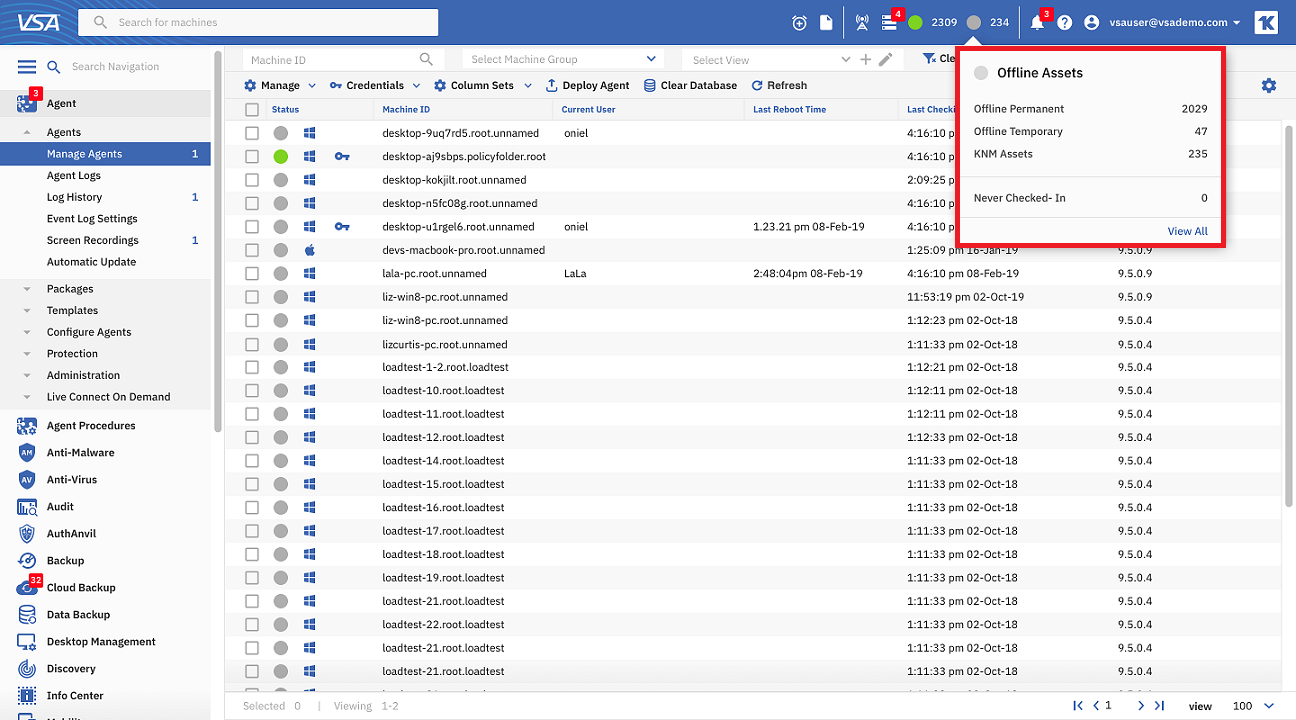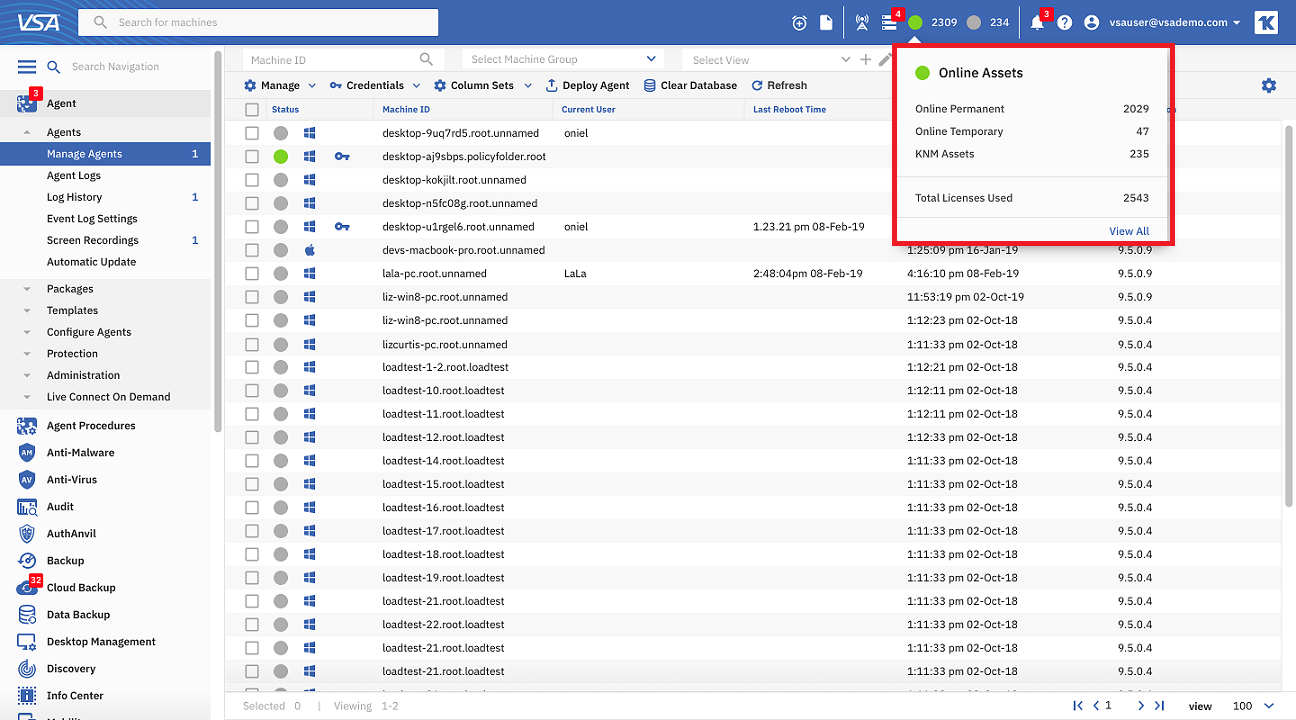 How VSA's Modern UI Contributes to Technician Efficiency
Easy Access to Information – The new design aims to make the technician's work easier by providing easy access to notifications and updates.
High Discoverability – The major features are grouped at a single location with clearly labeled icons. This allows for quick discoverability and reduces the time spent searching for things. It minimizes the number of actions for performing tasks and focuses on one function per page.
Faster Ramp-up – VSA's intuitive design reduces the time required to learn to use the platform and results in getting things done faster in an ongoing basis.
VSA delivers a modern UI that is "user-centered" and has a short learning curve. It is lightweight, keeps visual noise to a minimum and helps streamline complex workflows.
See VSA's modern UI today – request for a demo here.