Today's companies depend on IT to achieve business objectives and gain a competitive advantage in the industry. Gartner's 2018-2019 Annual Edition of their Top Insights for the C-Suite eBook indicates that 99 percent of top performers say that "IT is very or extremely important to business model change."
But with growth and change come the challenges. From manual processes to increased IT environment complexity, cybersecurity concerns to compliance regulations, IT teams deal with a lot of issues. The automation of IT operations processes is central to meeting organizational objectives.
Automation, Integration and Efficiency
Managing growth and change while controlling costs is the requirement of every midsize business today. This can be done by automating processes, streamlining workflows and making IT operations run as efficiently as possible.
Automating routine IT processes not only saves technicians' time but also enables faster resolution of service requests and incidents. Standardization of procedures based on policies ensures that best practice IT processes are in place.
For organizations to be extremely agile and efficient with their IT service delivery they should:
Automate workflows such as software deployment, patch management, and deployment of Antivirus/Anti-malware software
Set and meet service level agreements (SLAs) with the business
Automate remediation of incidents without getting the user involved (see this recent blog)
Streamline workflows to save technician time and reduce mean time to resolution of IT service tickets
Kaseya's Omni IT Platform
The success of IT depends on the effectiveness and efficiency with which the services are delivered. With Kaseya's Omni IT platform, organizations can deliver efficient IT services with seamless workflows.
The Omni IT solution is a single integrated platform that brings together endpoint and network management, service desk, knowledge and configuration management.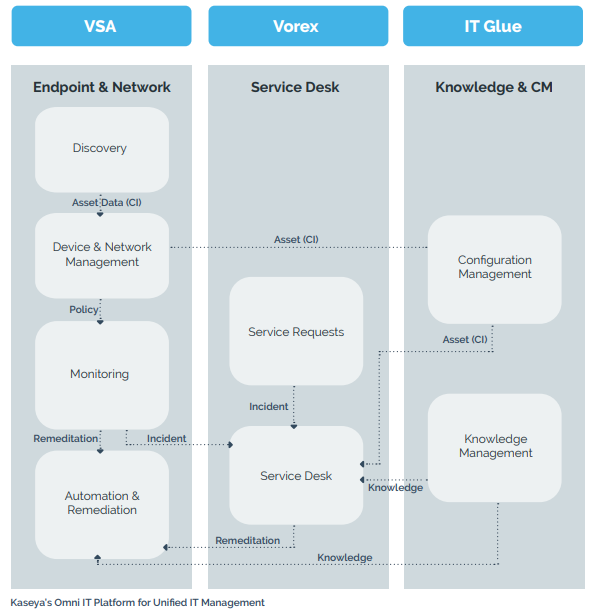 With the integration of Kaseya's VSA, Vorex and IT Glue solutions for IT management, you can automate IT processes, access asset information and IT documentation as needed to quickly remediate issues, and reduce costs with the elimination of manual steps.
Kaseya VSA – An endpoint and network management solution – enables organizations to automate routine IT processes through agent procedures, scripts and policies.
Kaseya Vorex – A powerful service desk – allows IT technicians to resolve incidents quickly. Vorex is integrated with VSA's to allow centralized, remote management of all your endpoints. Easily access VSA Live Connect to resolve service tickets without disrupting your end users. See IT Glue enriched asset information right in the Vorex UI.
Kaseya IT Glue – A knowledge and configuration management solution – provides powerful IT documentation enabling technicians to have all the information at their fingertips at all times. Techs can not only access asset information right in Vorex, but they can edit that information, too.
Kaseya's Omni IT solution increases IT productivity, efficiency and enables IT technicians to work on strategic IT initiatives to drive business change and growth.
To learn more about how our Omni IT platform leverages automation to improve efficiency, download our eBook Deliver Efficient IT Service by Automating Time Consuming Workflows.