Time is undoubtedly the most important resource your MSP business has. No matter how you slice it, there are only 24 hours in a day. This makes it a good idea to break down daily tasks and schedules to find the bottlenecks where your technicians are wasting untold minutes on less-important tasks and work toward making some meaningful operational adjustments.
More Efficiency for Technicians
When a plethora of support tasks and other obligations are met with challenges like lack of resources, manual processes and overburdening cyber-security concerns, technicians are bound to be overwhelmed. Even the most seasoned technician gets swept up in frenzied accumulation of tasks, despairingly long to-do lists and calendars filled with meetings and calls. The result? Most of technicians end up falling behind.
Lost tech time equals loss of business
Certainly, there is no shortage of options for your customers. Even the most basic break-fix service vendors are positioning themselves as managed service providers — trying to score the same customers. In addition, most MSPs are repackaging and selling the same services — creating a market with thinning margins and fairly low barriers for entry.
While your technicians are busy tending to mundane tasks, your competitors may be acquiring your potential customers who could have contributed immensely to your revenue and help you expand your service catalog.
Nonetheless, your competitors rely on similar workflows, tools and service delivery model for getting the job done. If you can improve or revamp these, it might just give your business the competitive edge it needs.
Improve IT service delivery with the right solution stack and automation
Ranging from cost-reduction and productivity to higher availability, reliability and accuracy – the right blend of solution stacks and automation can address multiple pain points. Streamlined workflows enable technicians to work faster and more efficiently and standardization of procedures based on policies minimizes human error. For MSPs planning to give their technicians the added boost, they must:
Integrate the ticketing system with endpoint and network management and knowledge management to reduce the time it takes technicians to complete a task. Have easy access to IT asset information as well as IT procedures related to those assets. This shortens the time required for a technician to get up to speed on a given issue and reduces mean time to resolution.
Automatically remediate issues without end-user involvement by continuously monitoring endpoints and networks and initiating processes based on policies.
Automate workflows such as software deployment and patch management, and antivirus/antimalware deployment, assigning SLAs to proper categories or technicians, and assigning specific workflow tasks to the proper group or person. This frees up technicians to work on strategic projects that require their expertise.
Automate processes across multiple IT domains like security, asset management and network management.
The most important point of integration in an MSP Platform is where ticketing meets remote control. When they are closely aligned, the RMM/PSA synergy enables MSPs to supercharge their operations by leveraging this integration to gain deep efficiencies in problem resolution, project management, expense tracking and billing, and automating key technical and business functions. By implementing automated processes and workflows, businesses can achieve efficient IT management, proactively identify and mitigate risks, and respond to dynamic business demands.
The Omni MSP Solution Stack
Now that you know what needs to be done, let's address how to get it done. Where do you find the solution stack that lets you do all of the above and more? The Kaseya Omni MSP Solution Stack enables you to be efficient, proactive, aligned, and ultimately, strategic.
Kaseya's Omni MSP Solution stack is a single integrated platform that brings together endpoint and network management, service desk, and knowledge and configuration management. With the integration of Kaseya VSA, Kaseya BMS and IT Glue, the solution delivers seamless workflows across products to improve technician efficiency. Automate IT processes, minimizing costly manual steps. Access information when and where it's needed with IT Glue data readily available in both VSA and BMS. Get more done faster!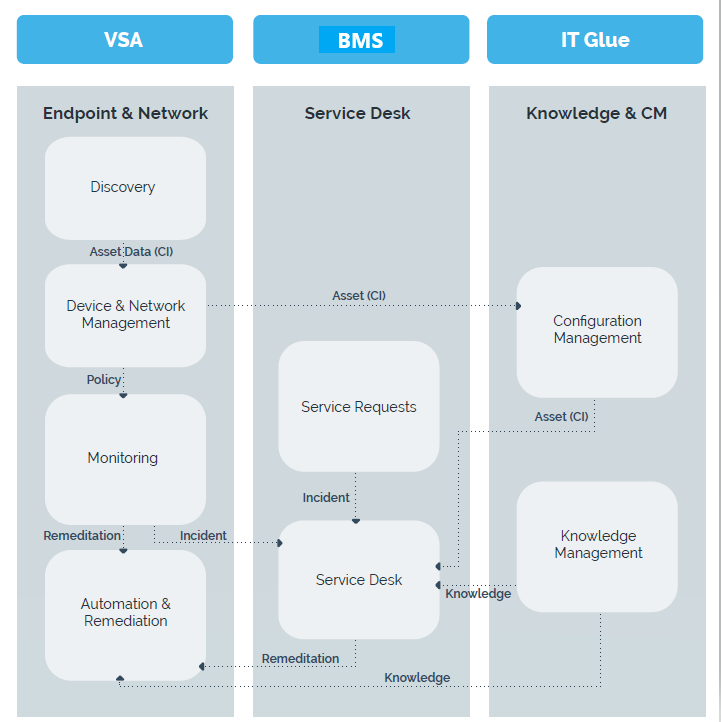 Conclusion
Time is a limited and finite resource that you cannot afford to lose, especially when it comes with repercussions for your business. When your RMM, PSA and IT Documentation work together, these solutions empower MSPs to optimize their daily operations – saving critical time and money in a way no other combined solution can. Learnm more at visit kaseya.com/get-started/.