Picture the scenario: The support helpline is on hold; the executive on the other side is waiting to get help with a malware-infected laptop that belongs to his boss. The call comes from one of your most premium customer — which was promised nothing but the best on signing up for your services.
What is your technician up to?
Unfortunately, the admin handling this account left the company a few weeks ago. The new technician filling up for him doesn't have access to the password vault where he could get the end-user password, nor does he know the admin credentials for that specific device.
This is a tricky but not so uncommon situation technicians face on a regular basis. What are the options in this scenario? The entire team can wait for the laptop owner to arrive and unlock the laptop. Alternatively, the IT manager can change passwords for all machines to which the former admin had access.
While these may lead to decreased IT productivity, but poor password hygiene poses bigger threats. Even a simple or rather careless act of not changing the password when someone leaves the organization poses a security risk that could escalate beyond comprehension.
Adding Extra Protection
Are passwords enough to combat the entire spectrum of security threats? If it were the early 2000's — yes, maybe. Fast forward to 2019 — passwords are most certainly important, but they are not enough. The most progressive and visionary tech companies are embracing proponents of biometrics as potential replacements for passwords. Cellphones did it first — followed by tablets and laptops, and now every other tech device is following in their footsteps.
The fact of the matter is that no one takes cybersecurity in a lackluster fashion these days. Technicians are aware that one level of security is no longer enough. Let us take a look at the top-upgrades:
Multi-factor Authentication
Multi-factor authentication (MFA) is a process by which a user confirms his identity by combining more than one method of authentication. In addition to the regular username and password, it adds another layer of protection by asking for a second factor to confirm a valid user is seeking access.
Single-Sign on
The average smartphone user has more than 80 apps on her phone and uses close to 40 of them each month. While "there is an app for that," there is also a password for that app. Single sign-on (SSO) solves this problem by allowing users to use only one set of credentials to log in once to an application "launchpad." From there they have access to all of their standard applications. This saves a lot of time logging in for all of your users.
Privileged Access Management (aka Privileged Account Management)
A privileged user is someone who has administrative access to your critical systems. And, it goes without saying that you want to give privileged access to only those you trust. Privileged access management (PAM) tools offer a scalable way to authorize and monitor all privileged accounts across your IT environment. These tools typically:
Grant access privileges to users only for specific systems, as necessary
Grant access only when it's needed and revoke access automatically at the end of the period
Create an audit trail of privileged access activities for compliance purposes
Have a password vault to store all system passwords
Going Beyond Passwords
Multi-layered authentications and passwords are wonderful, but they still need passwords, which means an increase in the number of endpoints translating directly into more passwords to manage.
There has to be a better way!
What if the technicians do not require access to any passwords to access end-user systems? You said, and we heard.
Kaseya's 1-Click Access allows secure access to end-user devices for privileged users/admins at the click of a button, without having to know user or admin credentials. This not only saves valuable time but also eliminates the need to change passwords when someone leaves the company.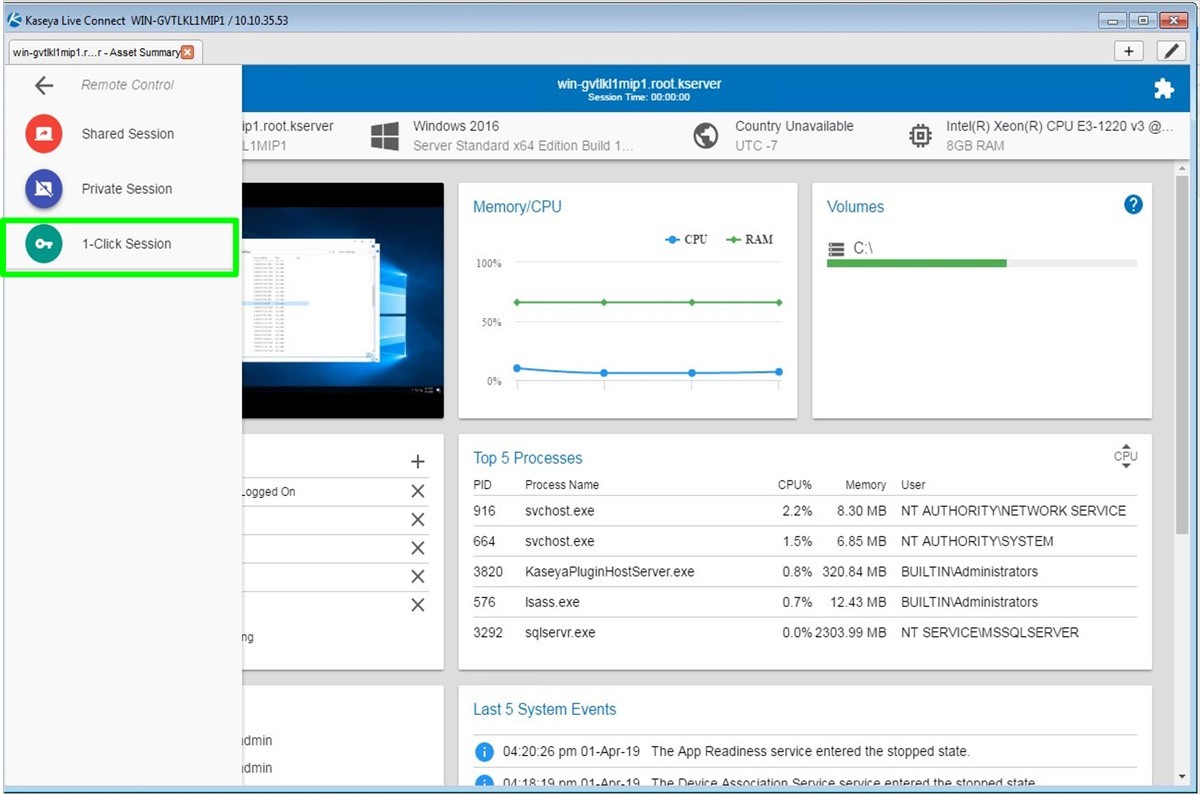 1-Click Access Provides:
Access to an admin-level remote console session from a single click
Automatic and secure management of a local admin account and password – so you don't have to manage this yourself
The ability to enable/disable technicians based on user and machine roles
Access via VSA QuickView and Live Connect
Activity logging and reporting (very helpful for audits)
1-Click Acces allows technicians to remotely log in to endpoint workstations even when the user is not available. MSP executives don't need to change passwords when a technician leaves the company. With 1-Click Access, the technicians won't know the password that is being created to access the device.
VSA 1-Click Access enhances security, saves time and increases the productivity of both MSP and internal IT teams.
See 1-Click Access in action — request a VSA demo today.