Whether you run a managed services business or are a tech wizard working at one, your first-hand experience equips you to offer valuable insight and forecasts on the industry and emerging tech trends. The question remains — do executives and technicians at a managed service provider (MSP) always agree on everything?   
With the 2023 MSP Benchmark Survey, we aimed to understand how well the business and technical sides of an MSP align. For this purpose, we asked executives and technicians at IT service providers questions related to the industry and compared their responses. While both parties share a great deal of common ground, they diverge in a few areas.
Let's take a closer look at these divergent areas and how, by bridging these gaps, MSPs can streamline their processes and boost efficiency.
A look at the demographics 
The 2023 Kaseya MSP Global Benchmark Survey had 1,091 respondents. The largest slice, 83%, came from the Americas; about 11% came from Europe, the Middle East and Africa (EMEA); and the remaining 6% came from the Asia Pacific (APAC) region.
About 63% of respondents identified themselves as general-purpose MSPs, 19% identified themselves as network- and data-center-focused, while managed security service providers (MSSPs) increased year over year to 18% of the respondent base.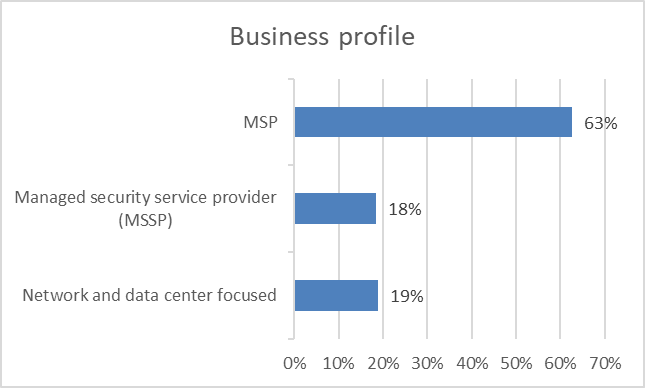 Most respondents (63%) are technicians, while the remaining 37% are executives. MSP owners, partners, vice presidents and directors were classified under executives, while managers, engineers, system administrators and technicians were grouped as technicians. Download the 2023 MSP Benchmark Survey report for a detailed breakdown.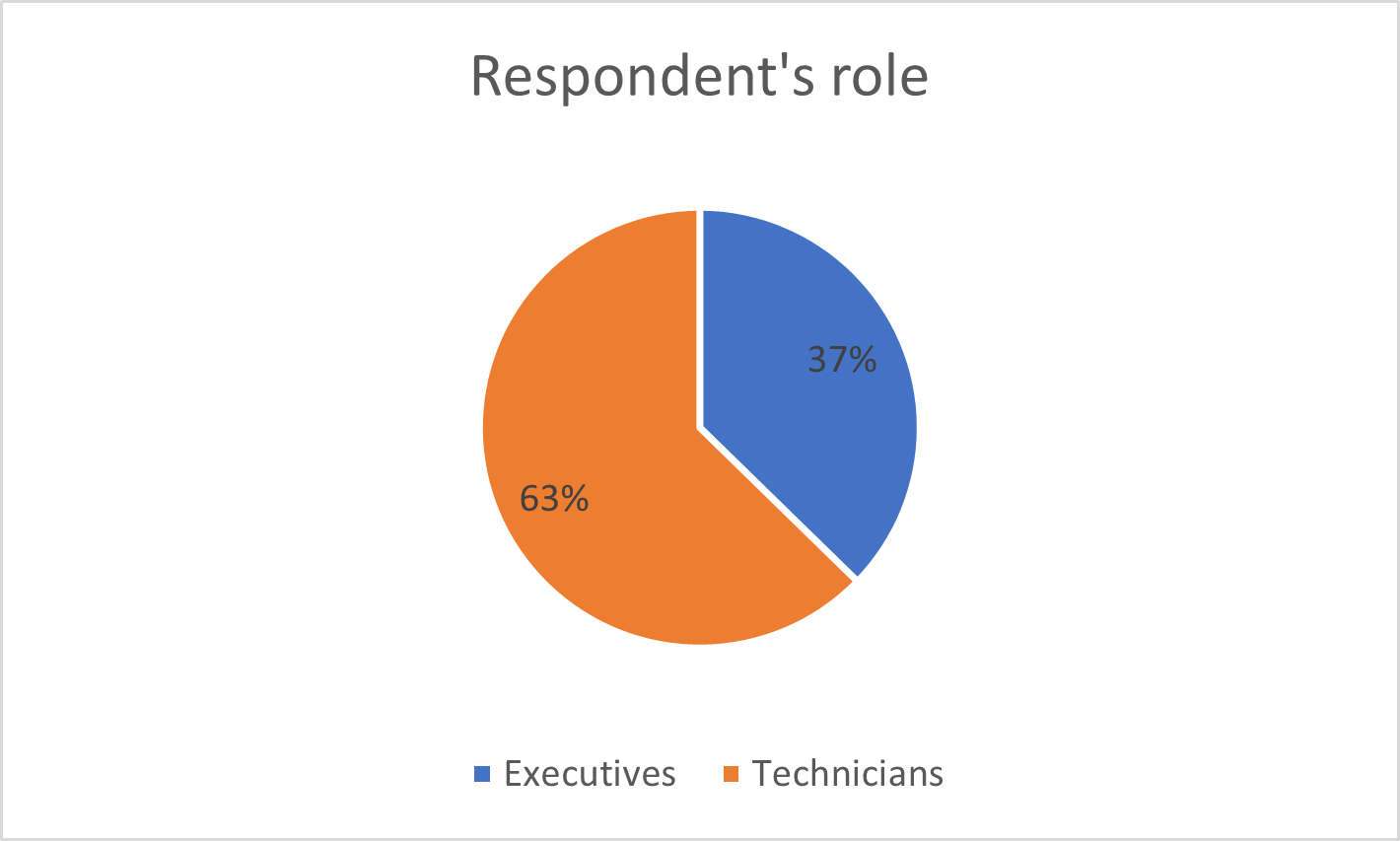 A comparison of executive and technician responses 
The executives and technicians are divided on three topics — benefits of integration, primary challenges of 2023 and endpoint management.
Integration 
While both executives and technicians agree that integration between core MSP applications RMM, PSA and backup is important for their business, they benefit from it in different ways. Executives benefit from streamlined processes, increased efficiency and better service delivery. Technicians benefit from more automation, less manual work and more efficient time management. 
About 63% of executives said integration enabled them to take on more clients and expand their business, while 54% said fewer technicians were needed to manage the workload. Almost half (49%) of the executives also said integration helped them cut costs. As it turns out, integration is not just good for business practices, it's good for the wallet too. 
In contrast, technicians were keen on finding the most efficient ways to do things. For 68% of technicians, integration saves them time, and 64% said it makes their job easier. More than half (56%) said integration enabled automated processes they would not have been able to perform otherwise.
By working with systems that integrate seamlessly, technicians can eliminate the "space between" applications — the time wasted jumping between them. In addition, they can leverage integration to build automated workflows, eliminate time-consuming manual processes, which can be expensive and error-prone, and focus on more crucial tasks, such as customer service.
Integration benefits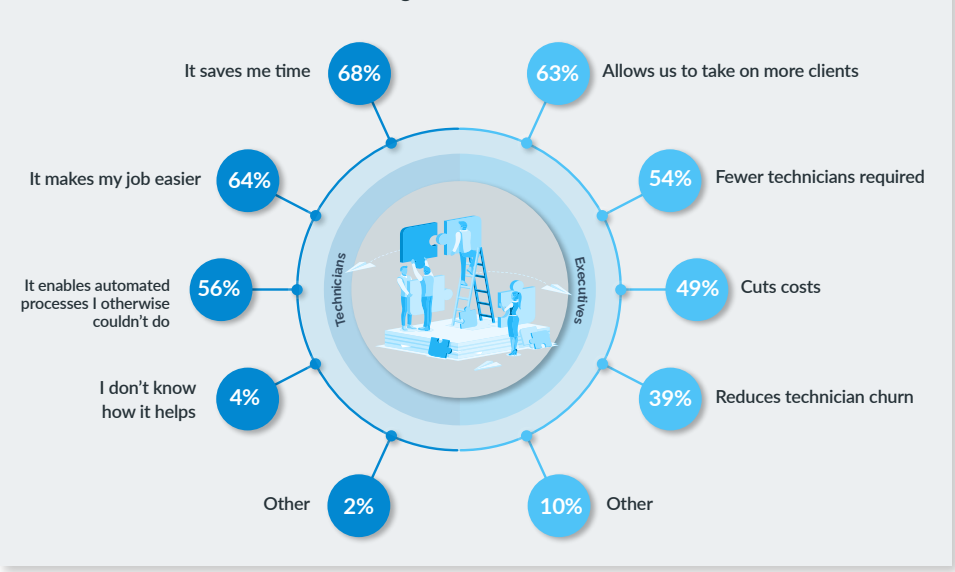 Primary challenge for MSPs
Executives and technicians face different sets of IT challenges. Understandably, executives are most concerned about customer acquisition (35%). To overcome headwinds, such as increased competition and a lack of sales and marketing efforts, MSPs should prioritize leveraging tried-and-tested sales and marketing strategies to differentiate their services and highlight their unique value proposition. Strengthening client relationships through regular engagement, understanding evolving needs and proactively addressing issues can increase customer retention and monthly recurring revenue (MRR).
The top challenge for technicians in 2023 is dealing with advanced and sophisticated security threats (21%). Cybersecurity challenges are keeping technicians on their toes. To stay a step ahead of cybercriminals, technicians must stay informed about the latest cybersecurity tools, techniques and best practices, and implement them effectively. MSPs will benefit from investment in robust security systems, such as firewalls, intrusion detection systems and security information, and event management (SIEM) tools that provide effective protection against even the most stealthy attacks and nip them in the bud.
| | | |
| --- | --- | --- |
| Primary challenge of 2023 | Executives | Technicians |
| Acquiring more customers | 35% | 17% |
| Dealing with advanced and sophisticated security threats | 14% | 21% |
| Hiring | 14% | 14% |
| Shrinking IT budgets and spending | 9% | 10% |
| Retaining current customers | 7% | 11% |
| Retaining current employees | 5% | 10% |
| Reduced service offerings to fit shrinking customer budgets | 5% | 7% |
| Sales and marketing expertise | 3% | 3% |
| Supporting remote work for staff and clients | 3% | 3% |
| Supply chain issues | 3% | 4% |
Endpoint management 
The discrepancy between executives and technicians on the number of endpoints managed is striking. By fostering open and transparent communication channels, executives can gain a deeper understanding of technicians' workloads and challenges managing many endpoints. This insight can help executives allocate resources appropriately, such as hiring additional staff or investing in new tools, to support their technicians. Conversely, technicians can provide executives with valuable feedback regarding the need for new and improved tools and processes to improve endpoint management.
When asked about the number of endpoints their technicians manage, the most common range among executive respondents was 101 to 250, while technicians reported managing over 750 endpoints as their top range. Only 8% of executives said their technicians manage more than 750 endpoints.
| | | |
| --- | --- | --- |
| Endpoints managed | Executives | Technicians |
| 1–50 endpoints | 23% | 18% |
| 51–100 endpoints | 20% | 14% |
| 101–250 endpoints | 27% | 17% |
| 251–500 endpoints | 17% | 19% |
| 501–750 endpoints | 5% | 7% |
| More than 750 endpoints | 8% | 26% |
Solving problems with Kaseya VSA
Kaseya VSA is a Unified RMM solution that provides a range of features that address the needs of both executives and technicians. A high endpoint-to-technician ratio enables MSPs to take on more clients and boost their MRR. Using VSA, technicians can automate common tasks, streamline processes and simplify their job. It also helps executives leverage analytics to build valuable reports that provide visibility into the IT infrastructure and helps them better plan their resource utilization. 
Final thoughts
Despite the differences, there are several areas where executives and technicians are on the same page. These areas include work-life balance and the value of automation.
For further insight into MSP perspectives, to better understand the current industry landscape and identify the challenges ahead, download the full report.