A robust IT infrastructure is undoubtedly the lifeblood of an organization, regardless of size. Small and midsize businesses (SMBs) especially require a reliable and well-designed IT infrastructure to function efficiently and compete with larger companies. Successful SMBs realize IT is no longer a cost center but an opportunity to achieve efficiency and savings.
However, managing IT in-house is harder than it seems. For many SMBs, it does not make financial sense to hire a full-fledged IT team and invest in cost-intensive hardware and software. This is where MSPs like you can make a big difference. By identifying the needs of SMBs and providing them with the right IT services, MSPs can help them while also unlocking growth opportunities for themselves.
The Kaseya 2022 IT Operations Survey Report provides MSPs with a window into the needs, goals and ambitions of internal IT teams. We have shared the survey highlights in this blog, but we encourage you to download the full report for more details.
Overview of the report
This year, we surveyed IT pros in order to highlight the challenges and opportunities they face. The survey results shed light on how IT professionals run their businesses, what technologies they are interested in, where they are investing and what trends they hope to capitalize on in 2022. With nearly 2,000 IT pros answering the survey, we asked them to walk us through everything going on in the IT industry — the good, the bad and the ugly.
SMB priorities present opportunities for MSPs
Most businesses have two or three top objectives they wish to accomplish in a year, and their strategies are geared toward achieving them. Our respondents were quite clear about what is top of mind.
Maintaining cybersecurity is essential but challenging
The remote and hybrid work environment has made it easier for cybercriminals of all stripes to exploit vulnerable companies. SMBs make an attractive target because they lack a solid security framework and often do not have the right resources and knowledge on how to build one. Furthermore, their technicians often experience burnout due to working longer hours monitoring for incidents on top of handling the usual IT tasks.
A growing number of smaller businesses are recognizing this and seeking help from MSPs to protect themselves from cyberattacks. Cybersecurity is such a crucial issue that respondents ranked strengthening cybersecurity before anything else when asked to identify their top three priorities. A cyberattack can cripple a business financially, and the reputational damage is difficult to reverse. Secure and reputable companies attract customers, and MSPs can help their SMB clients make security a major selling point.
Automating IT processes drives growth
Most SMBs walk the tightrope between cost and productivity. The growth and success of their business depends on devising strategies that help them scale without burning a hole in their pocket. Automation holds the key to solving this puzzle.
We are in the midst of an automation revolution. Everyone is talking about it and everybody wants it. For SMBs to benefit from automation, they need assistance identifying which areas of their business will benefit most from the technology.
Automating routine administrative and operational tasks reduces employee stress, making them more efficient, productive and capable of driving creative projects that meet customer needs. The burgeoning automation trend presents a great potential opportunity for MSPs. Automation is the second most important priority among survey respondents and MSPs that can provide it to their customers can set themselves up for long-term success.
Cloud technologies level the playing field
Cloud technologies have changed how SMBs do business by providing them with computing and storage resources that are similar to those in place at large corporations. Moreover, cloud technologies facilitate easy scalability, which frees small businesses from spending large amounts of money on hefty hardware, and allows organizations to adjust their cloud usage based on their needs with pay-per-use models.
On top of being a good fit for cybersecurity management, cloud technologies help automate processes. With cloud storage, businesses can quickly recover data in case of an incident while technicians can automate software patching for applications on the cloud to save time and improve efficiency.
MSPs can help level the playing field for SMBs by offering cutting-edge cloud services that cover everything from computing and storage to networks and operating systems. Aside from making cloud migration seamless, MSPs can position themselves as ideal partners for SMBs by providing advanced tools and application stacks that run on a cloud infrastructure.
The chart below details the IT priorities of SMBs. You can find a complete list of top priorities broken down by region in the report.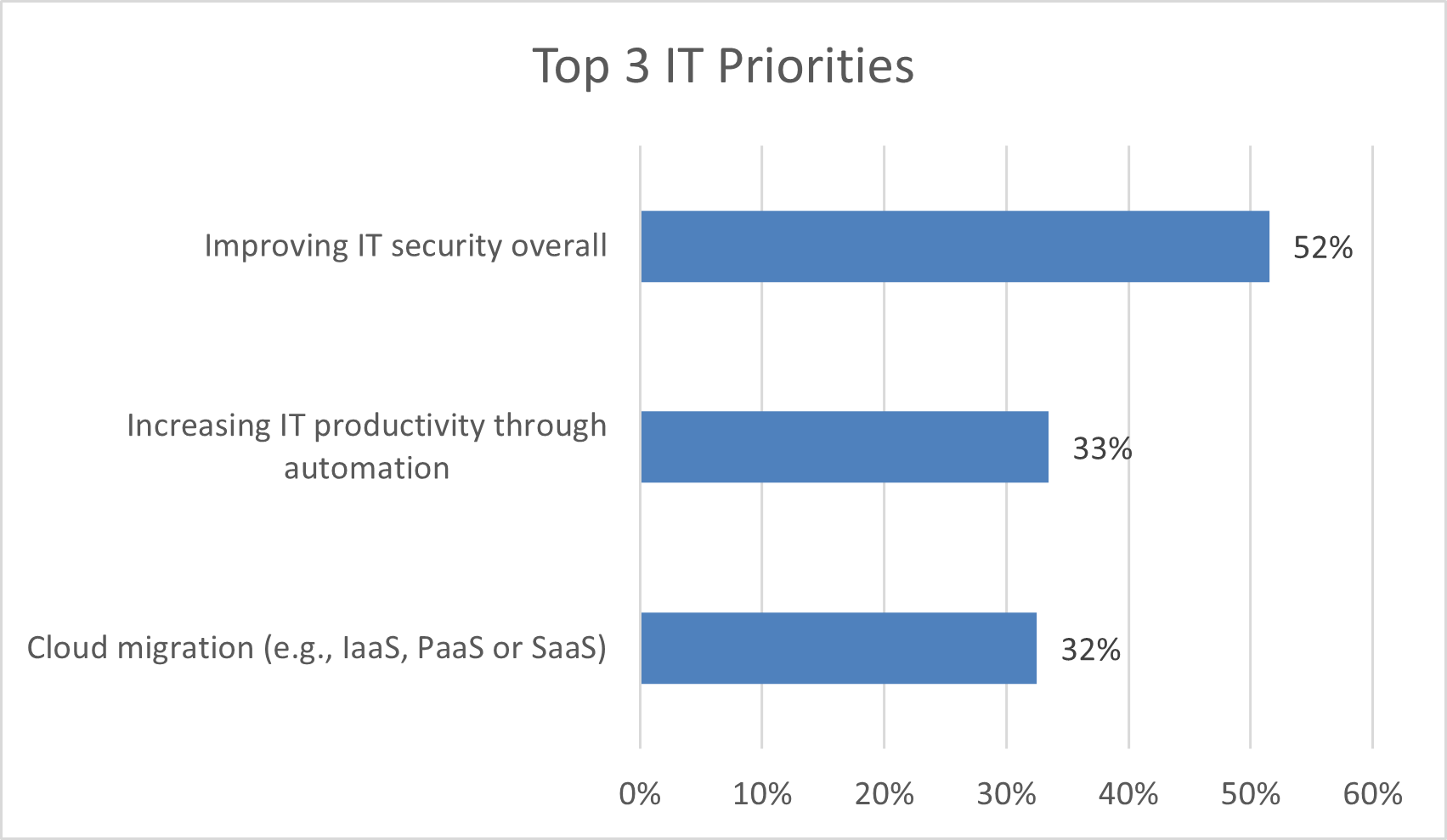 Staffing strategies 
SMBs tend to be relatively small organizations, so every hire is critical. Cybersecurity is one of the themes that stood out the strongest with a whopping 53% of respondents looking to increase staffing in this area. It presents an opportunity for MSPs to strengthen their security portfolio and leverage it to grow their existing accounts and attract new customers. SMBs are also looking to hire more general IT technical staff and help desk agents.
The report includes a complete list of growth areas, broken down by geography.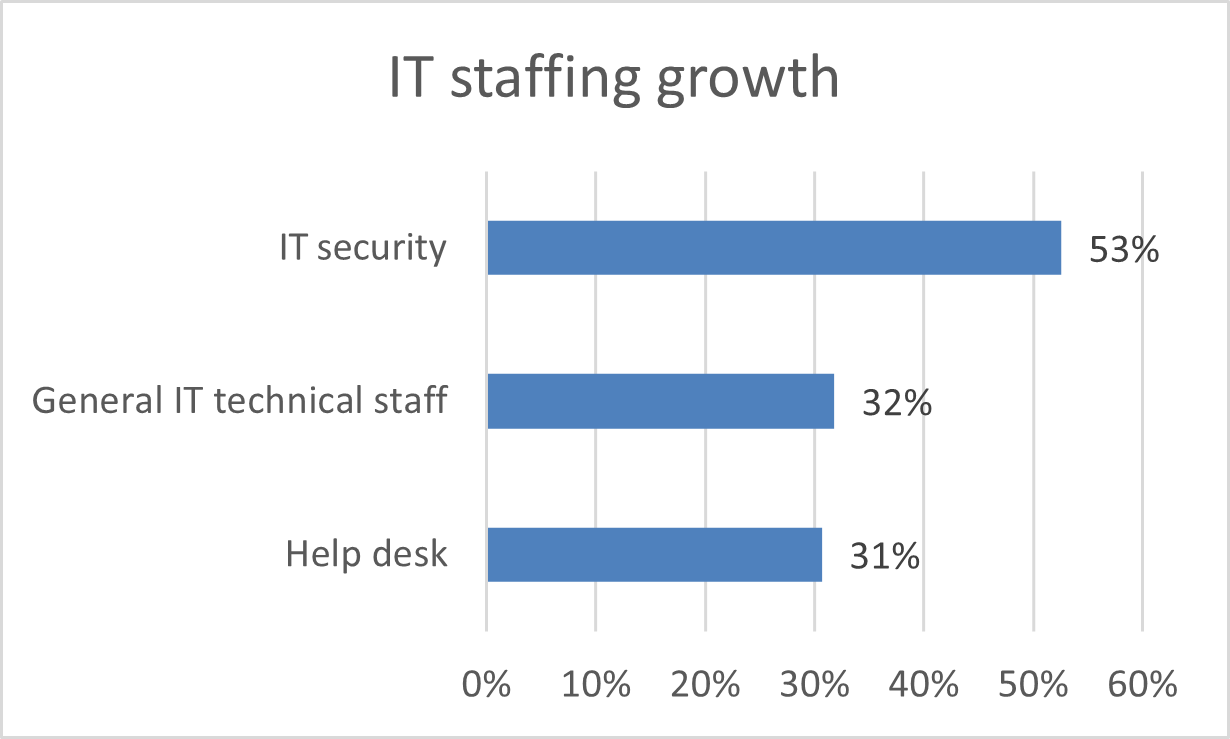 Why an SMB needs an MSP
We're long past the days of MSPs being purely reactive. SMBs increasingly rely on MSPs to be competitive. Increasingly, SMBs look to their MSPs to be IT consultants and the final voice on all things IT. Survey responses speak to this trend, with 64% of respondents saying they outsource IT services to an MSP compared to 51% in 2021.

Investing in a full-fledged IT department brings significant capex and opex that many SMBs cannot afford. Outsourcing these costs to an MSP provides a boost to SMBs that need cutting-edge IT to compete.
Not all SMBs outsource everything to an MSP. We asked respondents which services they turn to external support for. Given the complexity and priority of security, it's no surprise that it is the most frequently outsourced service.
This presents additional revenue streams for MSPs that provide comprehensive security stacks and the services of a managed security operations center (SOC), such as those powered by Kaseya.
In keeping with SMB priorities, the cloud is the second most commonly outsourced service.
A complete list of services outsourced to MSPs, broken down by region, can be found in the report.

The MSP: Serving as a trusted advisor
Today's MSPs are valued advisors and consultants on all things IT, and SMBs turn to them for guidance and recommendations on the right tools and technologies. Nearly two-thirds (60%) of survey respondents said they consult their MSP when evaluating new technologies.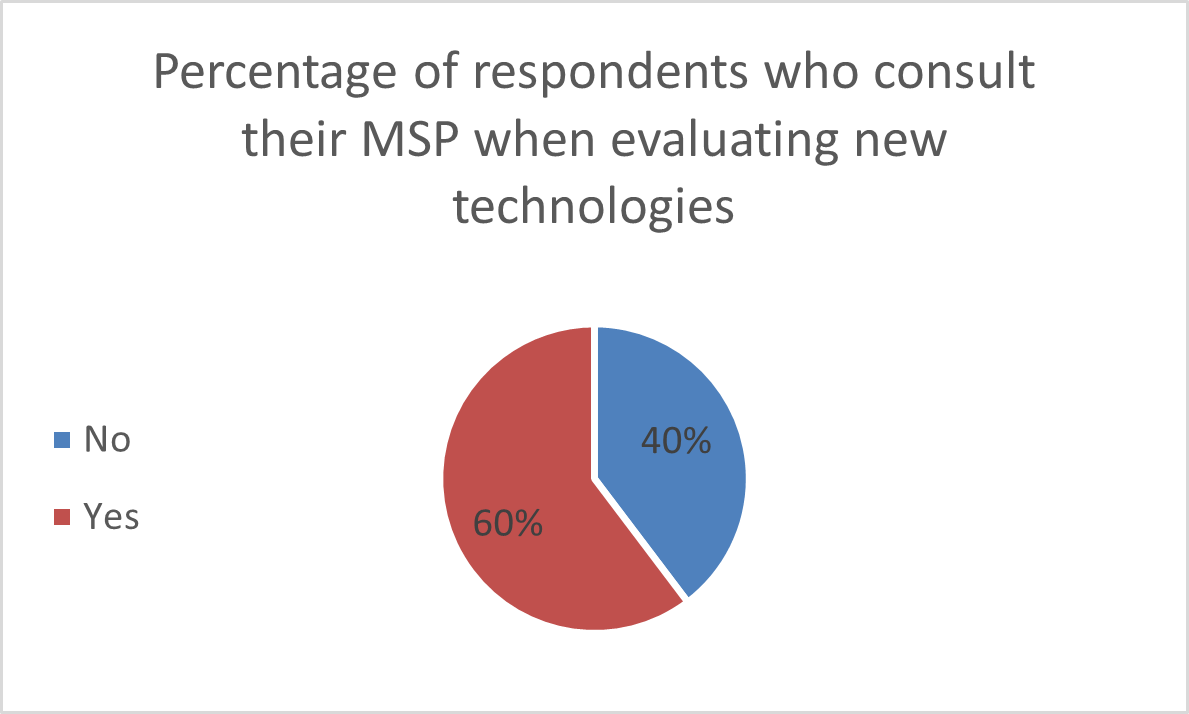 MSPs can simplify IT management for their SMB clients and free them up to focus on business-critical tasks. With VSA, Kaseya's top-of-the-line remote monitoring and management (RMM) solution, and BMS, our professional services automation (PSA) tool, MSPs can excel at customer service and win the hearts of their clients. In addition, MSPs can leverage Kaseya's Managed SOC platform to provide 24/7 security service that will impress clients on every level.
The 2022 IT Operations Survey Report provides a comprehensive understanding of the IT landscape for SMBs, providing MSPs with valuable insights. Download the report now to learn more.