A smart pricing strategy can mean the difference between being an average MSP and an MSP that wins. By pricing your services and products too high, you risk losing clients to your competitors, but by pricing them too low, you risk losing margins. The key to success lies in offering a unique roster of services and exceptional customer service at a price point that will entice your prospects and customers to buy from you.
Our MSP Pricing Guide is a good resource for discovering trending margins and rates you can rely on to design a profitable pricing strategy. As we share data from the pricing guide, we will also outline the steps you can take to arrive at the correct figures.
Let's discuss revenue 
Revenue is the lifeblood of any business. Consistent revenue generation is essential to ensure a company's financial health, continuity of operations and profitability. Therefore, your pricing structure should align with your revenue targets. 
As an MSP, you can open new revenue channels by adding highly sought-after services to your portfolio and capitalizing on their high demand. Think cybersecurity. Small and midsized businesses (SMBs) are having a hard time navigating the cybersecurity landscape, so offering a comprehensive security package can help you stand out. 
MSP respondents to the 2023 MSP Benchmark Survey identified security as the top service category in which revenue increased. Cloud management, business continuity and disaster recovery are other areas that recorded revenue growth. The MSP Pricing Guide, which draws on data from the survey, has a comprehensive list of 11 services with specifics on where revenues increased or decreased. 

MRR growth 
The monthly recurring revenue (MRR) number provides a snapshot of an MSP's financial health and business prospects. The MRR figure represents all the money an MSP receives from recurring service contracts (subscriptions). It's common for MSPs to bundle their services into different packages to simplify their selling process and ensure a stable and predictable MRR to allow for better planning. 
Taken from our Pricing Guide, here's an overview of MRR growth over the past three years. The percentage of respondents reporting MRR growth under 15% increased slightly. Respondents who selected MRR options over 20% have remained at 15% from last year.

The Pricing Guide also offers insight into the average monthly managed service contract size per client in the industry. The percentage of MSP respondents that reported an average monthly managed service contract of $7,501–$10,000 doubled year over year. A higher average price implies better cash flow, resulting in a more sustainable and thriving business. Check out the Pricing Guide for the complete table.  
What's the cost? 
After determining your revenue targets, the next step is to consider your costs. The cost of providing IT services to your clients will have an impact on your margins.
Some of the costs, such as rent, technology and staffing are recurring, while overheads such as utilities, taxes, marketing costs and office supplies, can vary monthly. Next, determine support costs for various clients, which can vary depending on the number of users, servers and amount of data each wants managed.
Once the revenue and costs are on the table, it's time to look at pricing models that best fit your business requirements.
Pricing models 
MSPs have a choice of multiple pricing models they can implement to bill clients for their services. The pricing model of choice usually varies with industry focus and the region the MSP serves. That said, some of the most popular pricing models are listed below.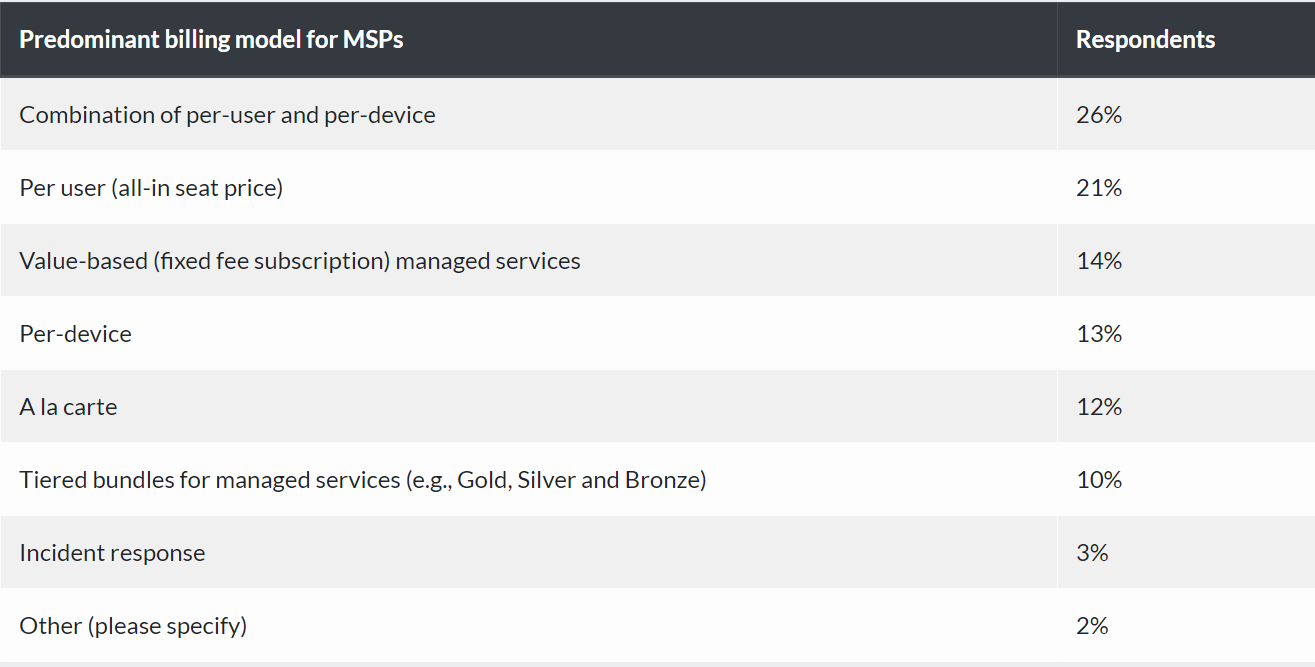 Most MSPs start with a simpler per-device or per-user pricing model. Under the per-device model, MSPs charge a flat fee per device, per month, for ongoing support and maintenance. The price of each device varies based on the complexity involved in managing it. For instance, an MSP might charge more per device for managing a server than a desktop.
Under the per-user rate, MSPs charge a flat fee per user, per month, for ongoing support and maintenance of all devices used by each user. This includes support for office PC, home PC and mobile devices, such as smartphones and laptops.
Take a look at our Pricing Guide to see how other MSPs charge under per-device and per-user plans.
While creating service bundles at various price points is the norm at MSPs, one-off projects outside of a monthly agreement, such as installing new technology, should be billed separately. These can fall under the break-fix category, where companies hire IT service providers to perform one-time services and pay them only for the work done plus the cost of parts. More than half (56%) of the respondents to the MSP Benchmark Survey chose the hourly rate range of $101 to $200 per hour for break-fix work.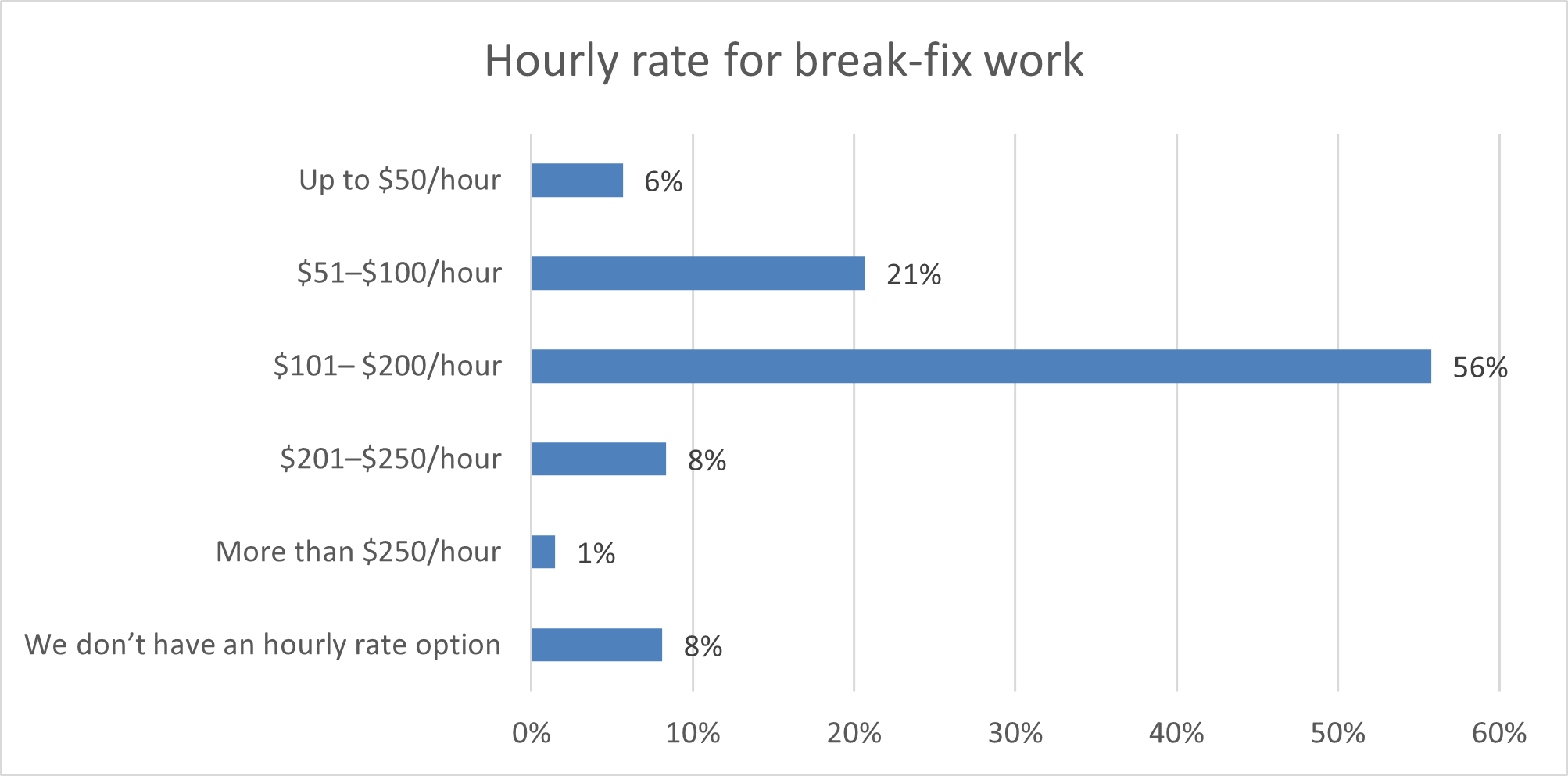 Once you identify the right selling point for your services and products, your goal should be to improve operational efficiency to increase your margins.
How can Kaseya help?
Kaseya understands you need a solid solutions stack to run your MSP profitably, which will not burn a hole in your pocket. In practice, this can be difficult when you use tools from different vendors that don't integrate well. As a result, you waste time, money and resources managing your devices, contracts and billing instead of delivering quality service. 
The Kaseya IT Complete Platform is designed to solve this problem. With over 40 IT and Security Management solutions under its banner, the platform offers everything you need under one roof. Because each solution integrates seamlessly with others, allowing for the best application of automation and advanced workflows, you can handle heavy workloads easily. You can sign up more clients without worrying about hiring more technicians or incurring ballooning costs.
Ready to supercharge your MSP growth without burning through your cash reserve? Book a demo of the IT Complete Platform today.
Concluding thoughts
The foundation of the MSP Pricing Guide is the 2023 MSP Benchmark Report which provides insights into the industry trends, key challenges and opportunities ahead. Click here to access the full report.