Revolutionize Your RMM
RMM Software To Manage Any Device, Any Endpoint, Any Anything
The definition of 'endpoint' has changed. Introducing the first and only Unified RMM. Automate, secure, monitor, and manage your world at scale.
Try It Out Free
Unified Endpoint Management
Manage every endpoint, from traditional to emerging – including mobile IOT, VMs and more.
Intelligent RMM Automation to Eliminate Wasted Tech Time
Endpoint growth is outpacing IT staff growth.
VSA is automated to eliminate wasted time and scale as you do.
Secure RMM Software to help Eliminate Ransomware
Ransomware is rampant and cybercriminals love endpoints.
VSA is secure by design, purpose-built to eliminate risk.
Affordable RMM Software for Greater Budget Efficiency
RMM functionality is critical for IT but can be costly.
VSA is priced 30% less than comparable solutions.
Move beyond RMM to Unified RMM
Discover why over 100,000 IT Pros choose Kaseya VSA
Download The VSA Product Brief
Kaseya VSA is the superior Remote Monitoring and Management (RMM) software for IT pros. Monitor, manage, and secure any endpoint, from anywhere.
Download Now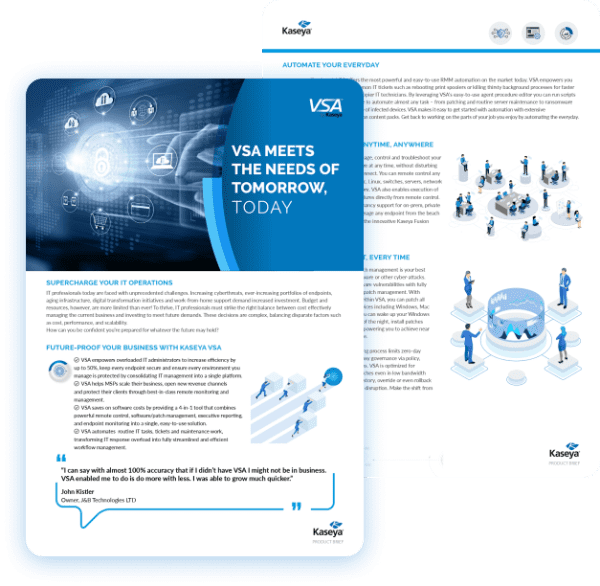 20+ Years of Innovation
VSA defined what RMM software is, but we're not stopping. Here are some recent innovations to supercharge your IT efficiency.
VSA is the foundation of the IT Complete Platform
VSA's deep workflow integrations empower IT professionals to keep IT documentation up to date, initiate a restore from backup, automate everyday tickets and more — all from within their RMM tool.
VSA & IT Glue
Get IT Glue contextual information right in VSA. Access procedures, passwords and information related to assets or organizations in under three clicks.
VSA & Autotask
Troubleshoot and resolve issues faster by auto-remediate more tickets than you ever thought possible, remote controlling directly from a ticket, and asset synchronization.
VSA & Unitrends
Deploy the world's best DRaaS and BCDR services, available in both an appliance-based and cloud-native platform, straight from VSA.
VSA & BMS
Optimize daily technician efficiency with 30% fewer tickets resolved 40% faster with ticket auto-remediation, remote control and asset synchronization.
VSA & Datto BCDR
Directly open and manage the backup appliances from within VSA to configure, back up, restore and manage alerts quickly and easily.
VSA & NOC Services
Outsource the consistent delivery of daily IT responsibilities to our trusted team of NOC Services experts that are fully integrated into your VSA.
Looking to Upgrade Your RMM Solution?
Years of data stuck in an inefficient and costly RMM?
No sweat. VSA offers a guided-onboarding experience so that you achieve day one value. Kaseya supports you all the way through by migrating automations, configurations, and data
Try It Out Free
IT Professionals Love VSA
100,000 IT Professionals rely on VSA to monitor, manage, secure, and automate their IT ecosystem.
Efficiency is the hallmark of VSA
"It allows us to resolve tickets within moments… and the beauty of VSA really is in the automation."
RMM Frequently asked questions