In today's' fast-paced world, with rapidly evolving technology, IT plays a critical role in the growth of a business. It is intrinsically linked to every department of a company whether it's to drive innovation and digital transformation, reduce operating costs or increase employee efficiency.
But IT leaders and staff spend far too much time keeping IT systems running and dealing with a horde of concerns including cybersecurity threats, complex legacy systems, and non-integrated IT management point solutions.
A vast majority of decision makers agree that too much (about 70% ) of their actual IT spending is consumed by what's often referred to as "keeping the lights on" — on basic systems and infrastructure maintenance.
For businesses to be agile and competitive, IT professionals are always looking at ways to streamline IT operations and be in a position to allocate more resources to strategic projects.
Kaseya's Omni IT Solution for Small and Medium Businesses
Kaseya's Omni IT solution enables small and midsize businesses to monitor and manage their entire IT infrastructure from a single pane of glass. It is an integrated platform which brings together endpoint and network management, service desk, and knowledge and configuration management. Kaseya's platform allows users to move easily from one product to another, as necessary, and access asset information when and where it's needed, greatly improving productivity.
The key components of Kaseya's Omni IT solution are VSA by Kaseya, Vorex by Kaseya and IT Glue.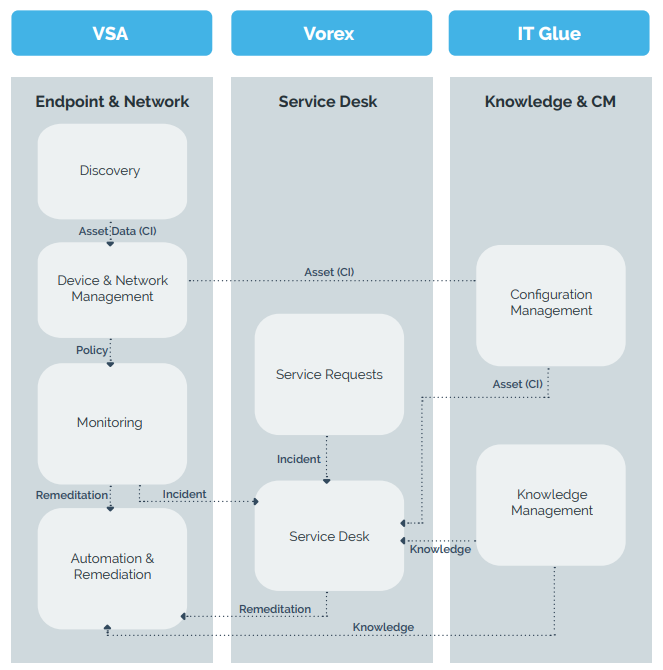 VSA by Kaseya
With VSA, IT teams can efficiently manage endpoints and networks by deploying policy-based automation. For example, IT pros can automate software deployment and patch management, enhancing the security posture of the enterprise by staying up to date with the latest security patches. Eliminate the hassles of password access and management!
VSA enables IT admins to remotely access end-user devices without disrupting users and proactively resolve issues by using Live Connect. Our new 1-Click Access feature allows technicians to easily and securely access endpoints without having to know user or admin login credentials. 
Its integration with IT Glue enables easy access to contextually relevant asset information right in the VSA Live Connect or Quick View UI.
Vorex by Kaseya
A full-featured, powerful Service Desk, Vorex allows technicians to resolve service tickets quickly, with easy access to VSA's remote control function. With advanced workflow capabilities, Vorex ensures tickets move through your support process in a timely manner. Technicians can access the right information at the right time via integration with IT Glue– see IT asset information, configuration data, IT procedure documentation and more.
IT Glue
An automated IT documentation, knowledge and configuration management solution, IT Glue maximizes the efficiency of IT pros by providing enriched asset information to get things done faster. Track and manage IT asset configurations, too.
Benefits of Omni IT
Faster Ramp-up for New Technicians – With an integrated platform, users do not have to worry about dealing with redundant, non-integrated point solutions. The Kaseya Omni IT 'single pane of glass' makes it easy to learn and use, which streamlines onboarding and improves ongoing technician efficiency.
Maximized Security – Omni IT solution helps you proactively address software vulnerabilities and reduce security risks by automating patch management. Deploy and manage antivirus and anti-malware tools with VSA to secure your endpoints.
Increased Productivity – With many of the common tasks and security procedures automated, IT pros can pursue IT aligned business initiatives and contribute to the growth of the business.
See All, Know All, Do All from One Cohesive View with Omni IT.
Learn more about how Omni IT benefits small and midsize businesses by downloading our eBook Benefits of Unified IT Management for Midsize Enterprises.