Managing software updates is one of the challenging and resource-intensive tasks the IT team undertakes on a daily basis. It is also one of the most important tasks to keep systems secure. Patches are typically released between five and twenty times a month. Getting these installed in a timely manner has never been as important as it is today. Quick patching of critical vulnerabilities reduces the risk of security breaches that can be costly to your business.
Security breaches are mostly caused by more than one instigator. It can involve hacking, malware, human errors and other factors. According to the 2019 Data Breach Investigations Report (DBIR) by Verizon, about 21 percent of security breaches were due to human errors and 15 percent of the breaches were caused by an application or data misuse by authorized users.  
To prevent breaches, security teams must patch quickly. However, IT teams are held back by manual processes and off-network systems that hinder their ability to patch on time. About 57 percent of cyberattack victims report that their breaches could have been prevented by installing an available patch. 
Automate the Patch Management Process
The biggest challenge for patch management is the fact that the process is time-consuming and requires constant attention. This can, however, be overcome by automating the various IT processes related to software patching. 
Auto Discovery of Endpoints:  You can't patch what you can't see. Auto-discovery of every single endpoint in the IT environment reduces the risk of blind spots and keeps every system in view.  

Create Patch Deployment Policy: Configure how and when to deploy the patches based on your organization's patching requirements and to minimize network impact. Use a patch management solution that minimizes network bandwidth consumption.
Automate Patch Deployment: Use a systematic and automated solution that deploys scheduled patches across all systems without any manual intervention. 
Scan for Missing Patches: Automate the process of researching the latest patches and determining which patches are missing on systems to ensure that your systems are always up-to-date. Schedule scans for missing patches and updates.

Automate Reporting: An up-to-date patch status and compliance report should be automatically generated in the event of patch deployment. This is helpful for security compliance reporting.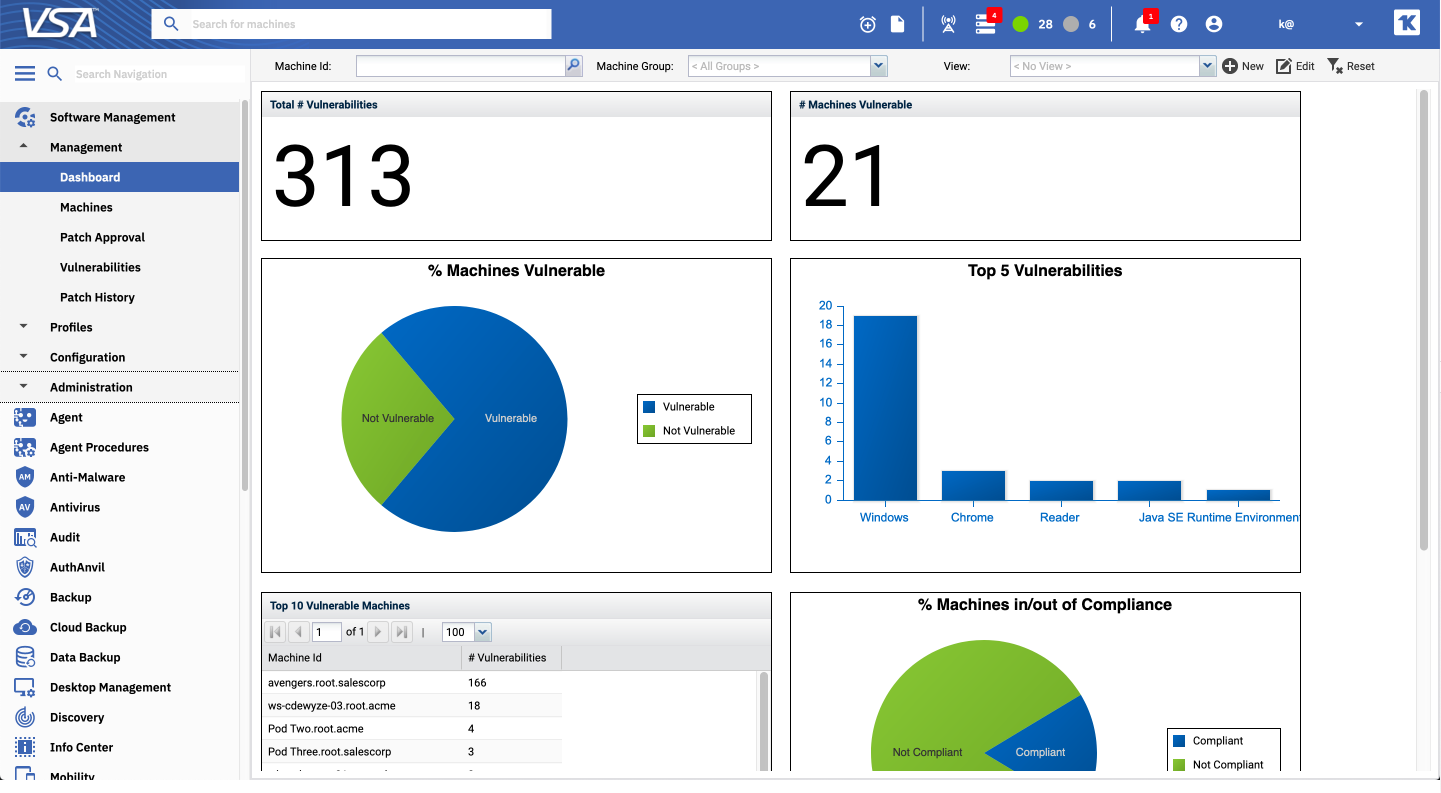 Patch management plays a critical role in ensuring that companies keep their systems fully up-to-date with the latest security patches. A robust patch management solution that provides a single view of all the patches installed on machines across the organization and that automates patching should be a key component of an organization's IT security strategy. Reduce your cybersecurity risk and ensure that endpoints are in compliance with your security policies. 
Kaseya VSA patch management software provides real-time visibility of the patch status of your entire IT environment, including on and off-network devices. VSA's Software Management module is powered by policies that allow you to automate software management across platforms and easily address the complexities of software patching. 
To learn more about VSA, request a demo.