In light of the economic and technological changes underway, we may remember 2023 as the year that brought about a paradigm shift in the way we work and do business.
As far as the world of IT goes, automation holds the key to the future, and will play a pivotal role in helping SMBs achieve higher productivity, profitability and unprecedented growth. Due to its many benefits and potential to drastically reduce technician workloads, automation is top of mind for SMBs.
Before we take a look at the IT Operations Survey findings on the impact and importance of automation, let's look at the business profile of the respondents.
Meet the respondents
The IT Operations Survey has grown in scope over the years, delivering a better and deeper understanding of IT issues. In line with previous years, technology, manufacturing, healthcare, education and financial services remain the top five sectors most of our SMB respondents hail from.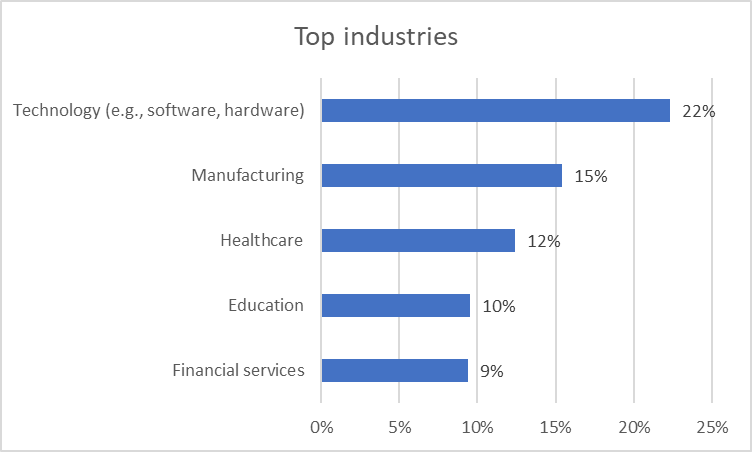 Thanks to participation from larger companies, the average company size increased in the 2023 survey, providing us with a more extensive understanding of the IT landscape. About 66% of 2023 respondents are employed at organizations with more than 500 employees, up from 48% in 2022. 
| | | |
| --- | --- | --- |
| No. of employees | 2023 | 2022 |
| Less than 50 | 6% | 15% |
| 51 to 100 | 7% | 9% |
| 101 to 500 | 21% | 28% |
| 501 to 1,000 | 18% | 13% |
| 1,001 to 3,000 | 23% | 12% |
| More than 3,000 | 25% | 23% |
Revenue, too, increased in correlation with the average company size. Download the 2023 IT Operations Survey report for a detailed breakdown.
IT maturity
As companies take steps to maximize the potential of their IT infrastructure, they increasingly identify with more effective, unified and collaborative IT management models. This trend is reflected in data from the past three years — there has been a decline in respondents who consider their IT department to be reactive while there was an increase year over year in respondents who view their IT management strategy as efficient and aligned.
| | | | |
| --- | --- | --- | --- |
| IT management capabilities | 2023 | 2022 | 2021 |
| Reactive – IT is always in fire-fighting mode. | 19% | 19% | 27% |
| Efficient – IT has processes in place to solve known issues and accomplish daily tasks. | 36% | 30% | 20% |
| Proactive – IT is focused on what's next. Repetitive tasks and remedial actions have been automated. | 30% | 34% | 33% |
| Aligned – IT operationally excels. We actively track and manage against SLAs or availability and performance expectations. | 9% | 7% | 6% |
| Strategic – IT plays a strategic role in the business, particularly around driving innovation. | 7% | 9% | 14% |
In the spotlight: Automation 
Almost 40% of the respondents want to invest in automation more than any other technology in 2024. SMBs grow at breakneck speed, and manually managing tasks and tickets becomes impossible as their IT environment expands. It also takes away hours of productive work from technicians, delaying critical projects, increasing the margin of error and affecting the quality and consistency of IT services delivery. All of this leads to higher workloads as well.
By automating a host of time-consuming albeit critical tasks, such as software monitoring and management, patch management, backup and recovery, and even cybersecurity, technicians can streamline workflows for greater efficiency, reduce errors, increase uptime and even lower operational costs. 
Cybersecurity is of such paramount importance that five of the top 10 technologies that respondents intend to invest in are cybersecurity-related. Automation is a boon for cybersecurity as well. IT teams can address only so many security issues manually. By using an advanced endpoint management tool with automation capabilities, technicians can set up workflows to identify and auto-remediate a variety of security issues, including the dreaded ransomware.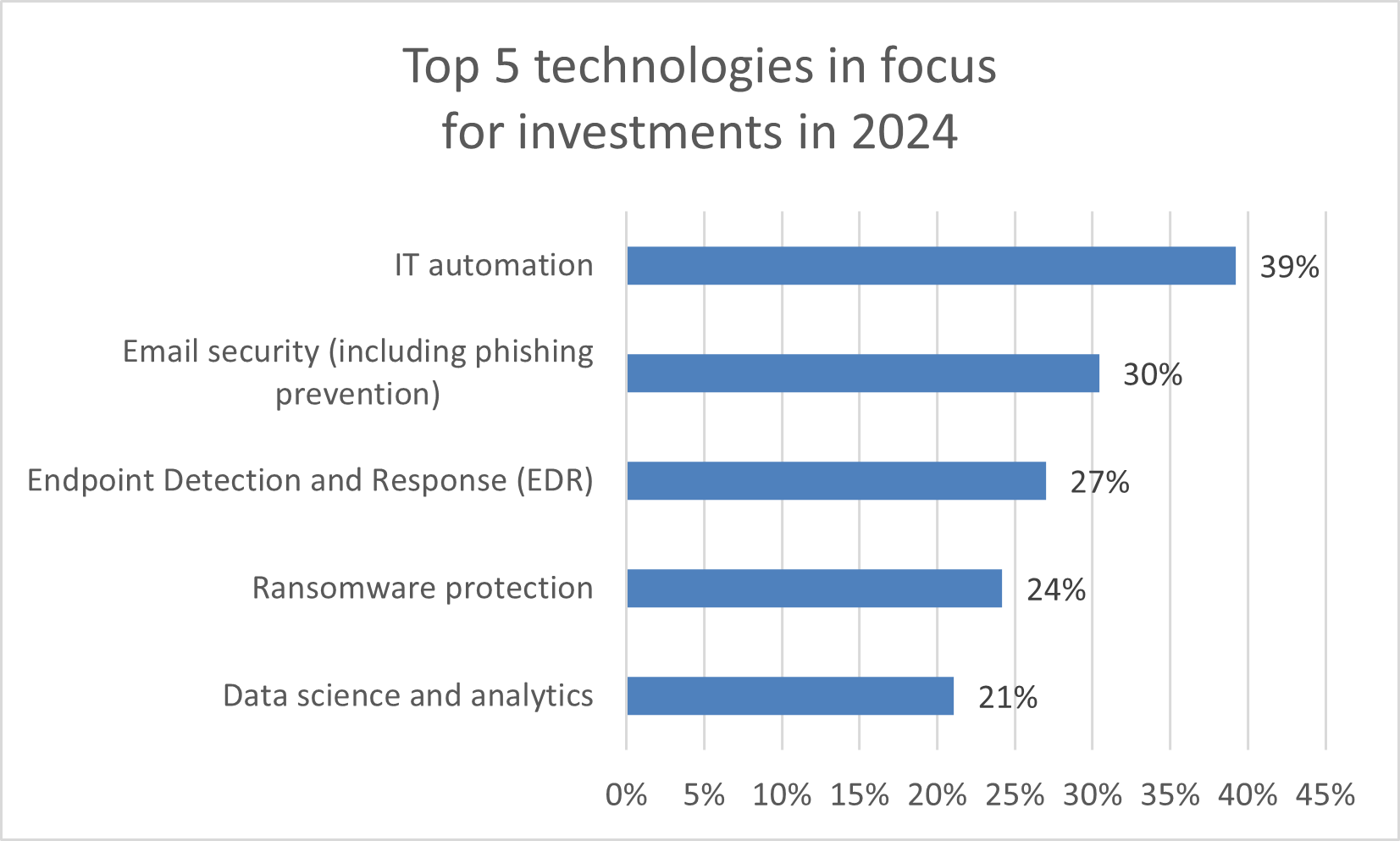 Moreover, automation goes a long way toward achieving the elusive work-life balance. The exhausting workloads and round-the-clock schedules followed by IT professionals are always topics of discussion. Nearly half of the respondents confessed to pulling an all-nighter, while about 40% admitted to working 50+ hour weeks consecutively. Check out the report to hear the story on the ground and directly from the source. 
Automation is the fuel driving productivity 
Increasing IT productivity through automation is the second-most important IT priority for SMBs (31%) behind improving IT security. Fortunately, automation can also improve cybersecurity. 
SMBs can also leverage automation to achieve several of their IT priorities, including delivering higher service levels and reducing unplanned downtime and disruptions. In general, automation helps businesses streamline processes, optimize resource use and reduce the need to hire more people to manage increasing workloads, leading to significant cost reductions in the long run.
| | |
| --- | --- |
| Top IT priorities | 2023 |
| Improving IT security overall | 45% |
| Increasing IT productivity through automation | 31% |
| Reducing IT costs | 31% |
| Cloud migration (e.g., IaaS, PaaS or SaaS) | 24% |
| Delivering higher service levels/IT service availability | 24% |
| Improving help desk KPIs (such as MTTR, first contact resolution and ticket volume) | 18% |
| Implementing big data or data science and analytics | 17% |
| Compliance reporting | 16% |
| Supporting your company's business innovation initiatives | 14% |
| Reducing unplanned downtime and disruptions | 13% |
| Outsourcing some core IT functions | 11% |
| Supporting mobile devices and BYOD | 7% |
| Other (please specify) | 1% |
What is the biggest obstacle to automation for SMBs?
Automation begins with integration. Unfortunately, many SMBs still run their IT operations using legacy systems and tools that operate in silos, with little to no integration capabilities. Rightly so, a quarter (24%) of respondents cited this as a challenge, hampering growth and innovation at their business.
How Kaseya can help
For businesses to fully experience the power of automation, they must first invest in an endpoint management solution that centralizes IT infrastructure management. Kaseya VSA is a unified endpoint management (UEM) solution that lets you manage all your IT from a single pane of glass. It packs monitoring, security, patching, service desk, IT documentation and more in one solution so you can multiply growth and accomplish things you never thought possible.
VSA's automation capabilities are unrivaled. VSA empowers IT departments with extensive out-of-the-box automation content packs that make getting started with automation a breeze. You can leverage the drag-and-drop automation workflow builder to combine standard automation actions, tasks, ticketing functions and scripts from anywhere, anytime, to automate almost any task — from patching and routine server maintenance to ransomware detection and quarantine of infected devices.
In fact, the Kaseya IT Complete platform has every solution you could possibly need to manage your IT. Each application under the IT Complete platform is tailored to the needs of multitasking technicians, with the interfaces designed to mirror one another, saving valuable time. Moreover, each application is automated and streamlined to provide unparalleled efficiency.
Concluding thoughts
The IT Operations Survey Report provides insights into how other businesses run their operations and the strategies they are implementing to cope with uncertain economic times. What impact do they foresee from the changes taking place and, more importantly, how they plan to protect themselves? Dive deep into IT priorities, challenges, business drivers and budgets, and uncover insights to set your business apart. Click here to download the full report.