Until the pandemic hit businesses in full force in 2020, high levels of mergers and acquisitions (M&A) activity were seen in the MSP industry. Post COVID-19, the state of MSP M&A is yet to be decided. But, there are strong indications that M&A activity is ramping up again. In this blog, we delve deeper into how mergers and acquisitions can benefit an MSP and what strategies MSPs are adopting in the new normal. 
A merger and acquisition strategy can encompass a number of key goals, such as a company looking to expand into a new geographic territory, or to acquire a new technology that provides a competitive edge, or simply to acquire talent for the business. Mergers between two companies or the acquisition of a company by another company are pursued as a way of seeking a solution to a business problem, to gain expertise, to increase market share and value, and/or to acquire intellectual property. 
M&A plays a different role for the acquirer and the acquired companies. When companies merge, they intend to play off each other's strengths in an attempt to rise in the ranks above other competitors. In the case of one company acquiring another one, the acquiring company may be looking to increase its sales margins by spreading costs out over a larger customer base, for example. M&A can be a faster route to business growth then organic growth. And with size comes some economies of scale.
What 
A
re the Major Advantages and Disadvantages of Mergers and Acquisitions?
Mergers and acquisitions, when done right, can be beneficial to all the companies involved and when done wrong has its own risks. 
Advantages
of
Successful
 M&A
Economies of Scale: As mentioned above, the merger of two or more companies can provide economies of scale. This can include higher gross margins as costs are spread across a larger revenue base. It can also provide increased access to capital and stronger bargaining power when negotiating with vendors.
Cost-Effective Way to Fuel Expansion: When two businesses come together, their resources are combined, adding value to the business without any additional training costs required. The new entity has essentially expanded its portfolio with acquired customers, employees, skills and products within a certain defined budget. 
Economies of Scope – Creation of Multiple Growth Opportunities: M&A provides access to a combined set of clients, assets and human capital. MSPs can use the M&A process to generate business growth such as expanding into a new market. That can take a long time when done organically; M&A will significantly accelerate the process. 
Diversification of Risk: By having a larger number of revenue streams, the merged companies can spread out business risk accordingly. When one source of revenue drops, others are available to make up the difference, or at least, to minimize the financial impact.
Risks of Poorly Executed M&A
Lack of Having a Complete Picture: Lack of proper planning and alignment of goals of the merged companies can generate a host of issues following a merger or an acquisition. The companies should have a strategy planned prior to the merger to ensure smooth business operations and continuity. 
Employee Distress Following the Merger: An M&A process often consolidates the positions of employees in the company, which might cause some distress to them. Companies can lose experienced and skilled staff if the employees don't feel valued and secure. Companies must take the necessary measures to keep their employees feeling good about their roles in the new organization. 
Poor Business Integration and Execution: Poorly executed managed services in the combined entity will affect client retention, leading to loss of revenue. Hence, all integration and execution of MSP services must be planned meticulously to avoid customer churn.  
MSP Mergers and Acquisitions
MSP M&A activity slowed down due to the pandemic. This comes as no surprise, as businesses were still working toward finding their footing during these uncertain times. 
Kaseya's 2021 Global MSP Benchmark Survey Report notes that 26% of the MSPs said they are looking to acquire other MSPs within the next 24 to 36 months, 8% said they are investigating selling their MSPs within the same period, while another 66% have no plans to acquire or sell their MSP.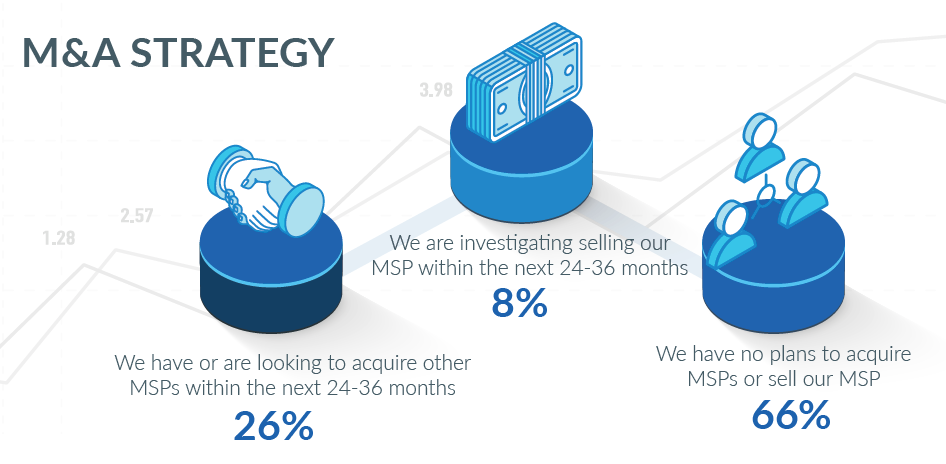 As we exit the COVID era, in this new normal, MSPs are regrouping and seem to be weighing their options of merging or staying independent. 
Incidentally, MSPs looking to acquire other MSPs have had higher growth in monthly recurring revenue (MRR) over the past three years. This indicates that stronger MSPs are in a better position to leverage M&A activity for further growth of their business. 
You can learn more about M&A operational guidelines and having a clear merger or exit plan by watching our on-demand webinar The M&A Operational Playbook for MSPs with guest speaker Gary Pica, President of TruMethods, and a pioneer in the managed services field. 
The webinar covers crucial topics on M&A such as how businesses can prepare themselves for a higher valuation and the many common mistakes you should avoid for a successful merger. Watch the webinar here.